10 Big Superhero Questions We'll Get Answers To In 2015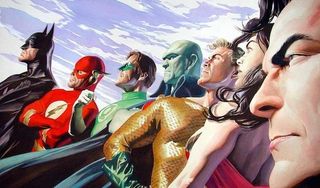 2014 was a big year for superhero movies, but now it's time to look to the future. While 2015 only has three superhero movies set for release (The Avengers: Age of Ultron, Ant-Man and The Fantastic Four), think of it as the calm before the storm given everything that Marvel, Warner Bros, Fox, Sony and other studios have planned for the years afterwards. So although the movie lineup will be light, the upcoming year is going to be full of exciting news and revelations.
Outside of promotional material, like trailers for Ant-Man and Batman V Superman: Dawn of Justice, the upcoming year is sure to be filled with lots of goodies, like casting announcements, release dates being set, plots being revealed, etc. All of which will give us better ideas of what to expect for these highly anticipated films, as well as provide countless hours of discussion/arguments among fans. So take a look at the superhero movie questions that we think will be answered over the next 12 months.
10. When Will The Batman Solo Film Come Out?
During the October DC film slate announcement, it was mentioned that Batman and Superman would be getting solo movies, but they haven't been scheduled yet. While the prospect of more Superman movies is exciting (especially if he doesn't have to share any screen time with other DC heroes), it's intriguing to imagine what a Batman solo film would look like in the DC Cinematic Universe. Batman is already set to appear in Batman v Superman: Dawn of Justice and the two Justice League movies, so if Warner Bros decides to move forward with a new Batman adventure it may not be until the end of the decade until we see it. Perhaps by the end of 2015 Warner Bros will have a better idea of what they want to do with the Caped Crusader outside of him fighting alongside Superman and the Justice League.
9. When Will Gambit Be Released?
Back in October, Fox finally announced that a Gambit spinoff movie is in the works, making the card-throwing Cajun the third X-Men character to get a solo film after Wolverine and Deadpool. However, aside from Channing Tatum playing the titular hero, the scriptwriter and the producers, we don't know anything about this film. While it might be too much to get some plot details during 2015, hopefully Fox will announce when the film is being released. Given that 2016 already has Deadpool and X-Men: Apocalypse lined up, the earliest we could see Gambit is in summer 2017, but it's more likely that it will be scheduled for summer 2018 or afterwards.
8. What Will Be The Title Of The Third Wolverine Film?
With all the X-Men: Apocalypse news and the announcements of Deadpool and Gambit, no one would blame you if you forgot that a third Wolverine film is coming out in spring 2017. Hugh Jackman will reprise his role of Fox's favorite mutant (possibly for the final time) and David James Kelly will be writing the film. Sometime during 2015, Fox will likely unveil what the film's title will be, whether it's something unimaginative like Wolverine 3 or a title with subtitle or adjective attached. Once the title is announced, we may get a better idea of what Logan's next adventure will entail. One potential storyline fans have frequently discussed online is an adaptation of the comic book miniseries Old Man Logan, which showed an elderly Wolverine living in a dystopian Marvel universe.
7. What Will Suicide Squad Be About?
In November, Warner Bros announced the main cast for Suicide Squad, which will follow incarcerated supervillains sent on black ops missions for the U.S. government. A superhero film with mostly antagonists as the main characters already sounds fascinating, but the bigger question is what type of mission these bad guys will be sent on. Carrying out an assassination? Foiling a terrorist threat? Obtaining a coveted item? Retrieving Amanda Waller's dry cleaning? Filming begins next April, and once they've gotten a fair amount of the scenes shot, hopefully Warner Bros. will clue us in on what the story for this unusual 2016 film will be. Whatever it is, don't hold your breath on seeing any superheroes show up. In this movie, the villains are leading the charge.
6. Will We Get A New Avengers Team?
Marvel may have announced their Phase 3 film slate in October, but we still have to finish up Phase 2 in 2015. While Ant-Man is technically the last film in this group, it will be The Avengers: Age of Ultron that changes the status quo of the MCU. One plot twist that's been rumored is that by the end of the film, the original Avengers roster will change. This could simply mean several members of the team leaving and being replaced, or it could mean a complete overhaul with all-new heroes. The Avengers have existed in the comics since the early 1960s, but the lineup of heroes is constantly changing, so it could be interesting to see a new group of Earth's Mightiest Heroes on screen. Even if this change doesn't happen by the end of The Avengers: Age of Ultron, there's always the chance the new lineup could debut at the beginning of The Avengers: Infinity War Part I.
5. Who Will The Justice League Villain Be?
It takes a powerful villain to unite the greatest of Earth's superheroes, which is why finding out who the main antagonist in Justice League Part One is so important. Whoever Superman, Batman, Wonder Woman and the other superheroes face is either going to have to be powerful enough to fight all of them or clever enough to hatch a plan to defeat them. There was a rumor several months ago that Brainiac would be the antagonist the League faces in Justice League Part One, while Justice League Part Two will feature them battling Darkseid. However, given the influence of the New 52 on the DCCU, it's possible that Darkseid could be the first villain our team of heroes fights, like it was in the 2011 story arc Origin. Regardless, let's find out who the villain is so that we can begin new discussions and create more accurate fan art.
4. What Are The Plans For The Spider-Man Films?
The past six months have shown us that Sony is having trouble with the Spider-Man film franchise, what with their peculiar spinoff plans and the hacked emails. Next month, Sony executives will be holding a "Spider summit" to determine what their next step is for the Wall-Crawler. There are two possible outcomes that could emerge from this. One is that the studio will soldier on and continue to make Spider-Man films on their own, such as the villain-led Sinister Six. Another is that Sony will relent and enter into a partnership with Marvel Studios, allowing the latter to use Spidey in their films. However, if Marvel obtains creative control of the superhero, that could mean saying goodbye to the Sony universe and Andrew Garfield and hello to a new version of the Spider-Man that exists in the MCU. Either way, 2015 will be a huge year deciding the fate of our cinematic Wall-Crawler.
3. Who Will Play Cyclops, Jean Grey And Storm In X-Men: Apocalypse?
When X-Men: Apocalypse hits theaters in 2016, we'll be jumping forward in time to 1983. In addition to the most of the First Class cast returning, the film will also feature younger versions of Cyclops, Jean Grey and Storm. Given the time that's passed since X-Men: Days of Future Past and the mention in the original films that these three were among Professor X's first students, it would make sense if Scott, Jean and Ororo are studying at Xavier's School for Gifted Youngsters during the movie. Fox has already started looking at actors in their mid-late teens to play the young mutants, so we should know soon who will be taking over the roles once held by James Marsden, Famke Janssen and Halle Berry.
2. Who Will Direct Black Panther?
In addition to announcing their Phase 3 lineup in October, Marvel also revealed that Chadwick Boseman will be playing Black Panther in Captain America: Civil War and his own solo film in November 2017. Much like the Thor movies and Guardians of the Galaxy, Black Panther will feature an unique environment with the secluded, technologically advanced Wakanda, and that will require an adept mind to bring the city and its inhabitants/visitors to life. Even accounting for abrupt changes ('cough' 'cough' Ant-Man 'cough'), Marvel has mostly been good about picking directors with the right creative vision for their projects, and Black Panther likely will be no exception.The film's release may seem a long time away, but given that Marvel likes to announce directors years before the movie comes out, 2015 will likely be when we learn who will helm the African hero's solo adventure.
1. Who Will Play Captain Marvel?
Marvel pleased many fans during the Phase 3 announcement when they revealed that Carol Danvers, a.k.a. Captain Marvel, will be getting her own movie in 2018. Although there are rumors aplenty about who Marvel is looking at to play Carol (as well as a few actresses campaigning for the role on their own), nothing is official right now, but considering the character's large fan base (nicknamed the Carol Corps) and the importance of her being the company's first female-led superhero film, Marvel is taking their search to find the right actress very seriously. That being said, they'll probably pick their final candidate before the year is finished, and if they decide to debut her in another movie first, it could be even sooner.
Connoisseur of Marvel, DC, Star Wars, John Wick, MonsterVerse and Doctor Who lore. He's aware he looks like Harry Potter and Clark Kent.