How Emily Blunt Feels About Playing Captain Marvel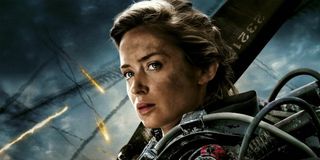 In a shocking turn of events this year, Emily Blunt emerged as the next big action star. She easily held her own alongside action movie mainstay Tom Cruise in the summer blockbuster Edge of Tomorrow -- and even surpassed him (in some people's humble opinion). In light of her success, some of her fans have been campaigning for her to follow this movie up with the title role in Marvel's upcoming Captain Marvel, but will this actually happen? And what does Blunt think about all this?
In a recent interview promoting her performance in Disney's adaptation of the Stephen Sondheim musical Into the Woods, which already earned Blunt a Golden Globe nomination, Collider broached the subject with the actress. This was her reply:
After Scarlett Johannson's Black Widow proved to be a hit amongst the fans, Marvel has been listening to the outcry for more female superheroes in their larger cinematic universe. Krysten Ritter was recently confirmed for the role of Jessica Jones in the forthcoming Netflix series A.K.A. Jessica Jones and the Defenders miniseries, alongside the newly minted Luke Cage, Mike Colter. And aside from the standalone Captain Marvel movie, Elizabeth Olsen's Scarlet Witch will appear in Avengers: Age of Ultron to cause some trouble for Earth's Mightiest Heroes. While the universe still has a long way to go in bringing on more female talent, Emily Blunt would certainly be an interesting and fitting addition to the team.
The campaign for Blunt to land the role originated online, but ScreenCrush brought it up to the actress earlier on. During the interview, she admitted to not knowing all that much about the character, but she was interested after reporter Mike Ryan described it to her as "witty and strong." As she said:
We'll certainly keep our fingers crossed for her on this front, but we have some time until July 6, 2018. Though, Marvel no doubt has at least a few actresses in mind.
Your Daily Blend of Entertainment News
Thank you for signing up to CinemaBlend. You will receive a verification email shortly.
There was a problem. Please refresh the page and try again.