10 Great 1984 Movies That Don't Get Enough Credit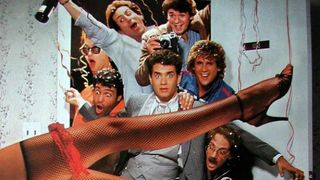 Film buffs everywhere are taking time to recognize the 30th anniversary of the summer of 1984. It was then when audiences enjoyed the likes of Ghostbusters, Gremlins, Indiana Jones And The Temple Of Doom, Beverly Hills Cop, The Karate Kid and many more. It was the beginning of the modern age of the blockbuster, the early days of PG-13 and the time when summer became high tide for big ticket attractions.
But lost in the nostalgia for that time is the fact that several other movies opened that year that are not as fondly remembered. Under the radar films, classics, would-be blockbusters and movies we couldn't quite figure out. Movies that survive and thrive today in the 21st century, just as or even more vital than they were upon first release. Here are ten great and unsung movies from 1984.
Top Secret!
Back Then... The reunion of the ZAZ team (David Zucker, Jerry Abrahams, Jerry Zucker), this was meant to be the highly-sought-after follow-up to Airplane!, considered by many to be the funniest film of all time. The ZAZ guys later admitted that this gumbo of WWII and Elvis pictures never really had a solid central plot, relying instead on an untested rookie actor in the lead. Top Secret! opened with a whimper against The Karate Kid, and was summarily whipped by three-week old hits Ghostbusters and Gremlins.
Now... Though it's something of a dark horse pick, Top Secret! easily belongs in a discussion of funniest films ever made. The movie earned half-hearted remembrances from the ZAZ team simply because it was such an impossible gamble: parodying both war films as well as musical romances that attempted to peddle crooner heartthrobs as leading men. Fortunately, they had a corker in a very green Val Kilmer. As Nick Rivers, the dashing super-heroic American musician, it's hard to say any man has ever been as good-looking as Kilmer is during his first lead role, and he deadpans his way through jokes so silly they make the gags in Airplane! look like Sophie's Choice. If we're comparing it to Airplane!, you have to dock the film for one or two jokes that just don't work. So yeah, bummer: the ZAZ Team didn't make the funniest movie of all-time, only one of the top fifteen or so.
Bachelor Party
Back Then… In 1984, Hollywood didn't yet know what it had in Tom Hanks. The gifted physical comedian with too much energy for his longer-than-normal frame was becoming a household name by charming American audiences on television's Bosom Buddies. He even made memorable cameos on the equally popular Family Ties, but was testing the waters of movie-stardom in 1984. Pun intended, he made a huge splash with both Splash and the raunchy, rowdy Bachelor Party. Comedies of this era were thin excuses for gratuitous T&A, and Party is no different, but Bachelor Party connected with a large audience in the Summer of 1984, and outgrossed "classic" films like The Terminator, Conan the Destroyer and A Nightmare on Elm Street.
Now… Every major movie star has to start somewhere, and Bachelor Party is best remembered as the launch pad for Tom Hanks' incredible movie career. Hanks, without question, is better than his overall movie, and it is crystal clear revisiting Bachelor Party that Hanks is the effervescent, manically charming piece that will survive and thrive in a post-Bachelor Party world. But back in 1984, having a bona-fide star in Hanks helped Bachelor Party stand out from the pack of cheesier, cheaper sex-gag comedies like Hot Dog! The Movie, Where the Boys Are or Hadbodies. Tawny Kitaen, Adrian Zmed and a donkey steal scenes during Bachelor Party, but we honor this Dude Fest for fully introducing audiences to Tom Hanks… still one of the industry's brightest stars.
The Adventures Of Buckaroo Banzai Across The 8th Dimension
Back Then... Earl Mac Rauch and J.D. Richter had spent years doodling up a passion project that originally went by titles as bonkers as Find The Jetcar, Save The President – A Buckaroo Banzai Thriller. Eventually, Fox funded the film, but when it came time to promote the picture, the studio aimed only at a then-dormant geek culture, failing to launch an honest-to-god mainstream commercial campaign. Those same nerds were either at Red Dawn or Dreamscape instead, and Buckaroo Banzai became an incomprehensible bomb.
Now... Well, the bad news is, Buckaroo Banzai is still nigh-incomprehensible. But that's in part why it is the definitive cult film: Banzai begins in media res, with Banzai developing a car that can drive through solid matter. It's only gradually that we learn he is a physicist, neurosurgeon, test pilot and leader of the rocking Hong Kong Cavaliers, and not because someone bothers to tell us. W.D. Richter's insane film operates under the assumption that you've kept up with the mythology of Buckaroo Banzai even though it's never existed, and you rightly know that this big budget Hollywood film is simply describing the average day for the irreverent superhero, played with limitless swagger by Peter Weller. Buckaroo Banzai is pure delight from beginning to end, even though, ultimately, you'll have no idea how to explain why.
Repo Man
Back Then... No one knew much of this punk rebel Alex Cox, who took command of Repo Man as his first feature film under the Universal banner. This deeply strange slice of esoterica introduced a gonzo sensibility to American film, featuring heroes who operated on the fringes of the harsh 80's economy. It was both angry and abstract, and didn't stand a chance opening up against movies like Footloose and This Is Spinal Tap.
Now... Repo Man can be found in the prestigious Criterion Collection. The movie has endured and become a cult curio over the years, mostly for its scorched-earth depiction of Los Angeles as a town of untrustworthy druggies and cynical opportunists. And as Bud, Harry Dean Stanton gives one of his most laconic performances in a career made up almost entirely of laconic performances. When he explains the logistics behind "plate of shrimp" or when he tries to sell desperate Otto (Emilio Estevez) on the job, he seems like both the most convincing salesman and the most lackadasical, disinterested person in human history. Cox never reached such heights again, but he's gone on to have a dynamic, exciting career as a counter-culture rabble-rouser.
The Pope Of Greenwich Village
Back Then... MGM was a hairs-breath away from teaming Robert De Niro and Al Pacino, in their primes, to star in this Vincent Patrick-penned adaptation of the novel. Unfortunately, the tides changed not only for them, but for their director of choice, Michael Cimino. When he demanded more time and tinkering, the director of Heaven's Gate was told to take a walk, resulting in journeyman Stuart Rosenberg stepping in. Which shouldn't be a complaint, except that Cimino took De Niro and Pacino away from us, and we ended up with the pairing of Method knuckleheads Eric Roberts and Mickey Rourke.
Now... Pope Of Greenwich Village is one of those 80's films that never gets its due. But this is a titanic picture, a story of two kitchen jockeys who dream big and get involved with the wrong thugs. Though the picture was release in '84, its New York has the lawless feel of seventies landmarks like Taxi Driver. And while Roberts' perm is a thing of evil magic, both he and Rourke are mesmerizing. Rourke cedes the spotlight to his more flamboyant co-star, and Roberts runs away with the picture, reminding you that, at one point people freely considered him to be the more talented member of the Roberts' clan.
Teachers
Back Then... This modest comedy-drama took advantage of the acting career of Nick Nolte, hot coming off North Dallas Forty and 48 Hrs.. With satirist Arthur Hiller behind the camera, expectations had to be strong for this kids-in-school laffer, though most viewers and critics didn't know what to do about the mixture of dark humor and educational realities presented by the film.
Now... Movies about kids touch on far more taboo topics, and it seems that reality has finally caught up with Teachers. The film is loaded with manic, ridiculous touches, some of which purposely stretch the boundaries of the concept: the best class in the school is history because it is taught by an escaped mental patient who stages re-enactments of historical events. The movie's got an excellent cast, including JoBeth Williams, Judd Hirsch, Lee Grant and Richard Mulligan and Morgan Freeman, with the kids played by before-they-were-famous actors Ralph Macchio, Laura Dern and Crispin Glover. But this is Nick Nolte's show, through and through... he's only 43 in the film, but he growls like an elderly man at every plot twist. You haven't lived until you've heard that Nolte growl describe a former student-turned-lawyer as having a, "Greeeeat ass!"
Body Double
Back Then... After Carrie, Dressed To Kill, Blow Out and Scarface, few expected much out of Body Double, which seemed based entirely off of De Palma's own pet interests and not much. It was a comedown to go from working with top industry legends like Sissy Spacek and Michael Caine to the mild Craig Wasson, and audiences basically ignored the film, which opened against The Terminator. De Palma earned himself a Razzie nomination for Best Director.
Now... Body Double is the ultimate De Palma movie, the perfect synthesis of his fetishes, interests and darkest desires. Wasson plays a failed actor who lucks into a house-sitting job, only to witness a horrifying murder. While he ends up getting involved in the mystery, he can't help but be seduced by the underground world of pornography and the starlet that lives across the street for him. Of course, the plot is skimpy enough to hang over what is essentially a peek into De Palma's love of long crane shots, sexual perversion and the idea of doppelgangers, with constant dramatic fake-outs and scene transitions that keep the audience on their toes. While the film is primarily focused on Wasson, it keeps its distance from his point of view, so you don't even realize if he's inside a dream or in reality. If you're onboard with De Palma's various interests and fetishes, this should be a must.
Blood Simple
Back Then... This little-known indie made the festival circuit in 1984, causing a sensation at the Toronto International Film Festival and the New York Film Festival. With an unknown cast and a noir feel, the pictures announced the arrival of two major new talents, the brothers Joel and Ethan Coen.
Now... Blood Simple has become the Rosetta Stone for a compelling, classic filmography that can't be matched by any contemporary director. The Coens have earned a place in history with their mordant black comedies, eventually becoming both Oscar darlings and occasional box office attractions. It all started here, also the debut of Joel's wife, Frances McDormand, caught in a harsh love triangle when a planned execution goes wrong. While it's more of a noir than their later pictures, the Coens don't neglect their own fatalistic sense of humor, particularly in regards to a suspicious assassin played by a crusty M. Emmet Walsh. Blood Simple was the rare film to gain a theatrical re-release fourteen years later, as the Coens shaped a Director's Cut that actually trimmed scenes, while featuring an introduction by Mortimer Young, a completely fake film historian who entirely invented ways to qualify Blood Simple's place in the classic movie pantheon. Renting the DVD will also get you Young's feature-length DVD commentary.
Johnny Dangerously
Back Then… Director Amy Heckerling's rapid-fire spoof Johnny Dangerously arrived at a great time for Michael Keaton (in a similar fashion to Tom Hanks and the aforementioned Bachelor Party). Keaton was on the cusp of becoming a huge star, having delivered hits with Night Shift (1982) and Mr. Mom (1983). By this stage, audiences were ready to follow Keaton anywhere – back in 1984, we went to movies because of the stars – and they were rewarded with a goofy, funny spoof that broadly targeted everything from James Cagney's gangster pics to Francis Ford Coppola's Godfather masterpieces. The two good ones, anyway.
Now… My mother told me Johnny Dangerously was underrated once. Once. If you get that joke, you are old (like me). But it also shows that 30 years after it opened, Johnny Dangerously has some quotability to it… though not a ton. Johnny Dangerously was a modest hit for Fox, earning $17 million and increasing the popularity of both Keaton and SNL veteran Joe Piscopo. But everyone associated with Johnny Dangerously ultimately would go on to be known for bigger and better things. Heckerling – coming off of Fast Times at Ridgemont High in 1982 – made her bones helming Clueless in 1995. And Keaton has a laundry list of hits… which could continue later this year with Birdman. Being a broad spoof, Johnny Dangerously still packs plenty of laughs if you were to dust off the VHS tape and give it a spin. And if you are a Keaton completist (as you should be), it's required viewing, so get to work!
Streets Of Fire
Back Then... Walter Hill's anticipated follow-up to 48 Hrs. was... a rock musical? That didn't seem to stop Universal, who proudly presented Streets Of Fire, with its unknown leading man (Michael Pare), as a big summer blockbuster. Critics savaged the film, and it opened a week after Indiana Jones And The Temple Of Doom, and on the same weekend as Star Trek III: The Search For Spock. Predictably, it bombed.
Now... Hill's film is a rousing curio, a foot-stomping gang film that seems to take place in another world (specifically the world of Hill's own The Warriors from a couple of years prior). This is a "tough guy" film, which is to say every character is larger-than-life, towering over their scenes with a youthful braggadacio. Pare is the lawless Tom Cody, returning home to find ex-girlfriend Ellen (Diane Lane) kidnapped by a greaser biker who goes by Raven (Willem Dafoe). What follows is an orgy of colors, an explosion of 50's-style music arrangements, and, most memorably, a chainsaw fight. While the film never broke out, it's said to have hugely inspired the popular side-scrolling video game Streets Of Rage and even spawned an official sequel, Albert Pyun's Road To Hell. Yes, Pare was not even close to being "too busy" to return for that one.
Your Daily Blend of Entertainment News
Thank you for signing up to CinemaBlend. You will receive a verification email shortly.
There was a problem. Please refresh the page and try again.