10 Great Sports Movies In Which The Main Character Actually Loses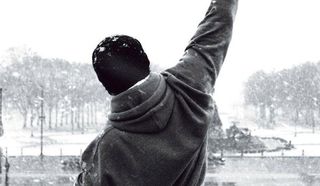 The tales of underdogs, has-beens, and the most unlikely of heroes, sports movies are triumphant stories of the human spirit, of overcoming great odds, metaphors for taking on rigged system, and just about anything else you want them to be. They can be so moving and powerful in fact, that often times it doesn't even matter if the hero wins in the end. Winning isn't everything, right? Unless you're a devotee of Vince Lombardi, who first said, "Winning isn't everything, it's the only thing."
There are SPOILERS for a lot of movies beyond this point, though if you read the title of this article, you can probably guessed what's going on.
Creed, the latest chapter in the Rocky saga, is also the latest sports movie to have a big, climactic triumph that doesn't actually involve the protagonist winning the day. Like so many sports movies, it's not about the wins and losses, it's about the journey of the characters. In that spirit, as Creed continues to punch it's way through theaters and accumulate glowing reviews, we thought we'd look back at some of our favorite sports movies where the hero doesn't win.
Rocky
The Sylvester Stallone written/starring Rocky is so damn good, so damn triumphant that it seems like the entire world often forgets that the Italian Stallion loses in the end. That's right, Apollo Creed gets his hand raised at the end of the climactic boxing match. Sure, there's a moral victory element, no one prior to Rocky has ever gone the distance with the champ, and he earns the begrudging respect of not only his opponent, but also the world at large. And more importantly, he gets the girl, as Rock and Adrian profess their love for each other at the end. But don't feel too bad for our intrepid hero, as he does finally beat Apollo in Rocky 2.
Kingpin
Sports movies are often tales of redemption, of once great athletes reclaiming their former glory, and that's the arc followed by the Farrelly Brothers' Kingpin, you know, with more bowling and dick jokes. After losing his hand in an ill-advised hustle, former bowling prodigy Roy Munson falls on hard times, though he hopes to ride a new young prodigy, an Amish man-child played by Randy Quaid, to riches and glory. At the end, the one-handed bowler has to return to the lanes, and though he ultimately fails to knock down enough pins, he earns a more important victory, that of salvation. He also scores a lucrative endorsement deal with Trojan condoms, so he's not entirely broke, and he's certainly a much better person for his ordeal. And Kingpin features a truly maniac performance from Bill Murray, so there's that.
Tin Cup
With the likes of Bull Durham, Field of Dreams, and McFarland, USA, Kevin Costner is the king of the triumphant sports movie, and the 1996 golf rom-com Tin Cup fits into this larger cinematic realm. Granted, his Roy "Tin Cup" McAvoy doesn't wind up golfing better than the other golfers at the big golf tournament, but he sure did leave a lasting impression. It may have taken him twelve shots to clear the final hole in the round, but he has one hell of a last shot. Though he didn't win, he closed out on a high note: as Rene Russo reminds him, in five years no one will remember who won, but they'll remember that shot. And Roy qualifies for the tournament next year and gets to make out with Rene Russo and the end, so don't feel too bad for the guy.
A League Of Their Own
As much emphasis and weight people often give to sporting events, there are, of course, things that are much more important than winning, and one thing that most of us agree trumps victory is family. The relationship between sisters Dottie Hinson and Kit Keller is at the center of Penny Marshal's 1992 A League of Their Own, about an all female baseball league started during World War II. To be fair, one sister's team does with the World Series, so not everyone loses in the end, but above all else, A League of Their Own taught us the valuable life lesson that there's no crying in baseball.
Bad News Bears
Next to Rocky, The Bad News Bears may be the ultimate sports underdog story. When an alcoholic former minor league baseball player who cleans swimming pools for a living (Walter Matthau) finds himself in charge of a rag tag group of misfit little leaguers, hilarity ensues. But there's also heart and emotion and legitimate connection as the future grumpy old man bonds with these unwanted, foul-mouthed little bastards, taking them on a run to the championship where they lose a heartbreaker. 1976 was a different time, when you could get away with ending a movie with a bunch of kids spraying each other with beer, but the film also provides a cutting look at competition in American culture and the win-at-all-costs mentality.
Moneyball
Being an innovator and challenging the status quo is never easy and can often be lonely road. Such is the case with Oakland Athletics general manager Billy Beane (Brad Pitt) in Moneyball, who abandons baseball's traditional method of scouting talent for a more statistics-based method of building a team. Based on real life events, Beane's unlikely team, a kind of grand-scale Bad News Bears, goes on an impressive run but ultimately loses. However, in doing so, he and his sidekick, Jonah Hill's Peter Brand, rock the boat and change the landscape of one of the major professional sports. With their methods legitimized, and aped by others, this is a victory of a different sort.
Cool Runnings
Combine a winter sport, like bobsledding, with a country that has no snow, like Jamaica, and you've got the making of comedy gold. If it happens to be based on a true story that captured the attention of the world, even better. In this case, what you wind up with is Cool Runnings, the 1993 sports comedy that follows the most unlikely Olympic participants, 1988's Jamaican bobsled team. Though they didn't win, thanks to an equipment malfunction, the unlikely competitors, comprised of a failed sprinter, disgraced bobsled coach, and a couple of underachieving slackers, proved that they belonged on a global scale and showed their worth to their critics at home and abroad.
Whip It
Though she's been a staple on movie screens for decades, Drew Barrymore made her directorial debut in 2009 with the Ellen Page-starring roller derby comedy-drama Whip It. The plot is a pretty standard misfit-finding-a-place-to-belong sports tale, with coming-of-age tropes, but the story and characters have enough heart, and it tackles themes of self-identity and conformity, that the film is entertaining if not entirely fresh. The movie ends in expected fashion, with the protagonist's team losing, but with everyone finally getting along and respecting each other. Not the most original narrative, but it's a pretty damn entertaining watch.
Bring It On
If you don't think that cheerleading is an athletic endeavor, just try to chuck one of your friends ten feet into the air and catch them without everyone engendering grievous bodily harm. Peyton Reed's 2000 teen comedy Bring It On dives into the cutthroat world of competitive cheerleading, pitting the squads from the rich school against those from the wrong side of the tracks. In true sports movie fashion, the lesson learned at the end of the film is that winning isn't everything and the two squads that have been at each other's throats the entire film win a tenuous respect for one another.
Silver Linings Playbook
Maybe David O. Russell's 2012 comedic drama Silver Linings Playbook isn't your average sports movie, but dammit dancing is hard, and it follows a similar arc as many of its predecessors, with the characters finding direction and redemption through the act of competition. At the end of the day, Jennifer Lawrence and Bradley Cooper's dancing duo may not win the ballroom competition they've been working towards all movie long, and the obviously untrained duo actually only scores five points. But in this case five points is enough to cause a stirring reaction from their friends and—and win an important, life-changing bet. More importantly than that, it allows the two main characters to reach a new level of understanding in their romantic life, and dating either Jennifer Lawrence or Bradley Cooper is way better than any stupid trophy.
Your Daily Blend of Entertainment News
Thank you for signing up to CinemaBlend. You will receive a verification email shortly.
There was a problem. Please refresh the page and try again.