The 10 Greatest Christmas Movies Of All-Time, According To British People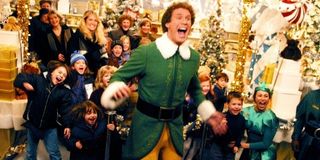 The festive period is now well and truly upon us. And to get into the spirit of the season, the good people of Great Britain have decided to figure out the greatest Christmas movies of all time. But what came out on top in their poll? Well none other than Will Ferrell's delightful romp, Elf.
According to Back to the Movies, who worked alongside Watchshop (opens in new tab) to create the poll, those crazy Brits managed to compile a list that embraced Christmas movies from a variety of generations. Elf just beat It's A Wonderful Life to the top spot, while the rest of the list was rounded off by Miracle On 34th Street, Home Alone, White Christmas, The Grinch, Love Actually, The Muppets Christmas Carol, The Snowman and Polar Express. In fact, just looking at those films has already got me making a list and checking it twice in order to find out who's naughty and nice.
But were there any glaring omissions that the English, Scottish, Welsh, and Northern Irish should feel ashamed at missing out on? Not really. Maybe The Nightmare Before Christmas, The Santa Clause or 1951's Scrooge should have been included. But since it's Christmas I'm prepared to give those who voted the benefit of the doubt for overlooking them. Meanwhile Jingle All The Way and Bad Santa, both of which are sometimes cited as bona-fide holiday classics, are more cult commodities in the United Kingdom. As are A Christmas Story, The Shop Around the Corner and Scrooged, too. Plus it wouldn't have been right to have two Home Alone films in the top 10, which is why I'm sure the inhabitants of Great Britain banded together to make sure that the superior original film was voted higher than its 1992 follow-up. Or maybe it was just luck.
Either way, despite the fact that the comedy is only just over ten years old, you can't really argue with the assessment that Elf is the greatest Christmas film of all time. Will Ferrell is perfectly cast as the loveably naïve Buddy the Elf who goes on the hunt for his biological father after learning that as an orphan he crawled into Santa Claus' sack of toys and was then raised at the North Pole. The entire film glistens with festive joy and you can't help but be warmed by its sheer exuberance and sense of wonderment. Plus it also features the best cinematic snowball fight in the history of celluloid.
Who knew that watching children get hit by a barrage of snowballs could be so much fun? I don't know about you, but I'm incredibly tempted to now sit down for the next twenty or so hours, watch every single film on this list in a row, and then wait for the feeling of Christmas joy to swell inside me. If you think this sounds like a ho-ho-horrific way to spend the next 24 hours then you're worse than Ebenezer.
Your Daily Blend of Entertainment News
Thank you for signing up to CinemaBlend. You will receive a verification email shortly.
There was a problem. Please refresh the page and try again.