Upcoming Hallmark Movies: Full List Of New Titles And Premiere Dates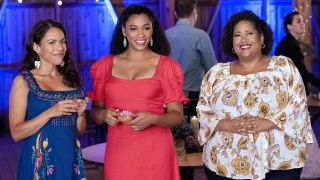 (Image credit: Hallmark)
If you need a happy ending-focused romantic story, whether it be strictly comedic or more serious, there are a few networks and streaming services where you can turn and be able to find the content you like. But, none of those places are quite as dedicated to bringing fans light, fun romantic fare and heart-warming, romance-filled drama which will be sure to bring a smile to the faces of viewers like the Hallmark Channel and Hallmark Movies & Mysteries. The popularity of these stories grows all of the time, and the channels long ago branched out to create new romantic stories built around seasonal themes, which debut all year long.
You only have to stop by Hallmark and Hallmark Movies & Mysteries a few times to know that there are a lot of new movies which come to the networks every year, and if you count these films as some of the best romantic comedies, you could probably use a handy list of all the new movies, which of your returning favorites will be starring in Hallmark's rewarding films, and when they'll debut as a part of the 2022 TV schedule, and we have that for you right here!
Now, without further ado, let's get into the list of upcoming movies on Hallmark and Hallmark Movies & Mysteries, which do include some of the new Fall Into Love seasonal event films!
A Splash Of Love (Hallmark) - Saturday, July 30, 8 p.m. EST
Starring: Rhiannon Fish and Benjamin Hollingsworth
When Miami-based PhD student Chloe (Fish) decides to take her study of whales to the Pacific Northwest, she meets a local tour guide (Hollingsworth) and they soon find themselves connecting over more than the majestic creatures.
While Australian actress Rhiannon Fish got her big break on that country's popular soap opera, Neighbours, American audiences will likely recognize Fish from The 100, where she played Ontari for seven episodes in 2016. Hallmark fans will know her from her roles in several previous movies for the network, including You're Bacon Me Crazy, Aurora Teagarden Mysteries: How to Con A Con, and from her starring part in 2021's Journey of My Heart.
Benjamin Hollingsworh has become well known from his four season (and counting) stint on the popular Netflix romantic drama, Virgin River, where he plays bad boy Brady, but he has several other credits to his name, as well. He had a major role on Code Black as Dr. Mario Savetti, played Dexter in the movie Cold Pursuit, and has Hallmark movies like Love Under the Olive Tree and A Godwink Christmas: Meant for Love under his belt.
14 Love Letters (Hallmark Movies & Mysteries) - Sunday, July 31, 9 p.m. EST
Starring: Vanessa Sears, Franco Lo Presti, and Madeleine Claude
Kallie (Sears) runs a hobby farm next to Jackson Flynt (Lo Presti), who happens to work a massive tract of land that used to be farmed by her family. When Kallie starts to receive the love letters of poets, men away at war, and other historical figures from a mysterious admirer, she begins asking out her prime suspects. But, this comes just as Jackson begins to realize that he's falling for her, himself.
Vanessa Sears is likely most recognized for her work as young Jessica on a 2016 episode of Suits, but the actress has also appeared in the one-season series Y: The Last Man and Netflix's Sex/Life, among other series and movies. Franco Lo Presti has been seen in shows such as Jupiter's Legacy (which was sadly cancelled after one season), Workin' Moms, Murdoch Mysteries, the Own drama, The Kings of Napa, Schitt's Creek, and Letterkenny, where he played Shep in 2017.
Love In The Limelight (Hallmark) - Saturday, August 6, 8 p.m. EST
Starring: Alexa PenaVega and Carlos PenaVega
As a teen, Summer (Alexa PenaVega) sent a fan letter to her favorite boy band heartthrob, Nick (Carlos PenaVega), which sparked a long-distance friendship that's now lasted well into their adulthood. When Nick is booked for a small show in Summer's hometown, the two finally meet and begin to see that they could be more than friends.
Alexa PenaVega racked up a number of credits when she was a young child in the '90s, but she really came to fame after starring in 2001's Spy Kids as Carmen Cortez, and then also starring in the film's three sequels. PenaVega has nearly 100 TV and film credits, including Nashville, The Tomorrow People, Ruby & the Rockets, and a number of Hallmark movies, like Taking a Shot at Love and the Picture Perfect Mysteries series, which sees her co-star with her husband, Carlos, who's also in Love in the Limelight with her.
Carlos PenaVega got his start on an episode of ER in 2004, but gained fame as a member of the TV series cast and pop group behind Big Time Rush in 2009, and went on to play Kenickie in Grease Live! in 2016, along with guest starring in a number of series, and playing opposite his wife Hallmark's 2017 film, Enchanted Christmas.
Big Sky River (Hallmark Movies & Mysteries) - Sunday, August 7, 9 p.m. EST
Starring: Emmanuelle Vaugier and Kavan Smith
After Tara (Vaugier) decides to stay in a summer rental in a rural town she loved as a child, she strikes up a friendship with her neighbor, the town's sheriff (Smith), who is just beginning to recover from losing the love of his life.
Emmanuelle Vaugier will be known to film fans for her work as Addison in Saw II, but TV lovers will know her from even more projects, such as Two and A Half Men, CSI: New York, Smallville, One Tree Hill, Covert Affairs, Lost Girl, and her 2021 appearance as Peggy Bishop on Supergirl.
Similarly, viewers will know Kavan Smith from a number of popular TV shows, as the actor has been a major part of the When Calls the Heart cast since 2015, in addition to having recurring or guest parts on Eureka, Supernatural, Mistresses, Stargate: Atlantis, The 4400, The Outer Limits, and dozens of other shows. In addition, he's become a staple of Hallmark movies, with starring roles in films like You Had Me at Aloha and The Perfect Bride franchise.
Romance In Style (Hallmark) - Saturday, August 13, 8 p.m. EST
Starring: Jaicy Elliot and Benjamin Hollingsworth
When aspiring plus-size clothing designer Ella (Elliot) takes a job at a high profile fashion magazine, she ends up being enlisted by publishing scion Derek (Hollingsworth) to teach him the fashion ropes before taking over the business from his dad.
While we got into several of Hollingsworth's many credits above, Jaicy Elliot might be new to you, and that's because this marks her first Hallmark movie. But, fans of Grey's Anatomy will certainly recognize her as Dr. Taryn Helm, whom she's portrayed since 2017, and also taken to the spinoff, Station 19, a few times.
The Journey Ahead (Hallmark Movies & Mysteries) - Sunday, August 14, 9 p.m. EST
Starring: Holly Robinson Peete and Kaylee Bryant
Lonely Hollywood actress Madeline (Robinson Peete) has had a string of bad luck, but when she hires Sarah (Bryant), her assistant's friend, to drive her to an urgent medical appointment in New York City, the two women begin to find friendship after their car breaks down and they get stuck in a tiny town.
Holly Robinson Peete is known for her five seasons as Officer Judy Hoffs on 21 Jump Street, but she went on to star in Hangin' with Mr. Cooper and For Your Love, also guest starring or recurring on shows like Chicago Fire, Mike & Molly, American Housewife, One on One, and many more. Robinson Peete is also beloved to Hallmark fans for her reality show, Meet the Peetes, and a number of movies for the network, including the Morning Show Mysteries and Christmas in Evergreen franchises.
Kaylee Bryant has portrayed Josie Saltzman on The CW fantasy series, Legacies, since 2018, but has also shown her talents in Santa Clarita Diet, The Real O'Neals, Chasing Life, Kickin' It, and American Horror Story, among other series.
Unthinkably Good Things (Hallmark Movies & Mysteries) - Sunday, August 28, 9 p.m. EST
Starring: Karen Pittman, Joyful Drake, Erica Ash, Lance Gross, Jermaine Love, and Luca Seta
Allison (Pittman) needs some serious bonding time with her best buds Melina (Drake) and Reesa (Ash), stat, after finding herself at quite the crossroads in both her love life and career. So, all three women meet up in Tuscany, where they each begin to really take a look at their relationships and lives as a whole, with their support and friendship leading them all to take leaps in love and life.
Karen Pittman was seen most recently on And Just Like That… where she portrayed Dr. Nya Wallace, but she can also be seen as Mia Jordan on The Morning Show, and Willa Hayes on Yellowstone. The talent has also appeared in numerous other series, such as Homeland, Evil, NOS4A2, The Blacklist, and Luke Cage. Joyful Drake has appeared in shows like P-Valley, The Quad, Lethal Weapon, and Jane the Virgin, among others. And, people will likely know Erica Ash from her parts as M-Chuck on Survivor's Remorse and Bridgette Hart on Real Husbands of Hollywood (which is getting a revival), but she's also been in Family Reunion, Legacies, Shades of Blue, Scary Movie V, Cold Case, and Uncle Drew.
Love's Portrait (Hallmark Movies & Mysteries) - Sunday, September 4, 9 p.m. EST
Starring: Aubrey Reynolds and Richard McWilliams
When museum curator Lily (Reynolds) discovers a painting that looks exactly like her, she traces it to Ireland, where she accepts help in figuring out the story behind the artwork from William (McWilliams), who knows more than he originally lets on.
Aubrey Reynolds will likely be recognizable to those who enjoy watching a wide selection of Lifetime Christmas movies, as she starred in 2020's Hot Chocolate Holiday, and was also in Hallmark's Christmas Tree Lane and My Christmas Love, along with playing Maude Beaumont in a 2021 episode of Legends of Tomorrow.
Richard McWilliams is an Irish actor who's done most of his work across the pond so far, with starring roles on the television series Fair City, and in the movies Saga: Curse of the Shadow and Dawn of the Dragonslayer, but he also appeared on Vikings in 2017.
The next several weeks of movie premieres for Hallmark and Hallmark Movies & Mysteries looks to be well worth fans' time, and know that you can bookmark this list in order to check back regularly and get all of the updated info on what new Hallmark movies will be coming our way over the next few months, as we'll be adding details on upcoming projects as soon as possible!
Bachelor Nation, Gilmore Girl; will Vulcan nerve pinch pretty much anyone if prompted with cheese...Yes, even Jamie Fraser.
Your Daily Blend of Entertainment News
Thank you for signing up to CinemaBlend. You will receive a verification email shortly.
There was a problem. Please refresh the page and try again.