Upcoming Hallmark Movies: Full List Of New Titles And Premiere Dates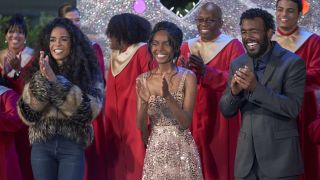 (Image credit: Hallmark Channel)
If you need a heart-warming, romantic story, there are a few places you can turn where you'll be able to find the content you like. But, none of those places are quite as dedicated to bringing fans light, fun romantic fare which will be sure to bring a smile to the faces of viewers like the Hallmark Channel. While the network is very well known for its dozens of made-for-TV Christmas movies, which have aired new every holiday season for the past nearly 12 years, the popularity of these stories grows all of the time, and the channel began branching out to create new Hallmark movies built around seasonal themes, which debut on a yearly basis.
These themed romances have included premiere dates for weekly debuts, with every Hallmark fan knowing to check the channel on Saturday nights to see what brand new film they'll be treated to. Theme film events include Winterfest, Countdown to Valentine's, Spring Fling, Countdown to Summer, Summer Nights, June Wedding, as well as Fall Harvest, which has led into Countdown to Christmas yearly since 2015.
Basically, I'm saying that there are a lot of new movies which come to the Hallmark Channel every year, and if you count these films as some of the best romantic comedies, you could probably use a handy list of all the new movies, which of your returning favorites will be starring in them and when they'll debut on the network, and we have that for you right here!
Now, one relatively minor caveat is that while Hallmark tends to release basic information on its new movies several weeks in advance, we'll likely have to wait until much closer to the premiere for finalized info on exact air dates, and that is especially true with Hallmark Christmas movies. Now, without further ado, let's get into the list of upcoming Hallmark movies, which do include many of the new Countdown to Christmas and Miracles of Christmas movies!
South Beach Love - Saturday, October 9, 9 p.m. EST
Starring: Taylor Cole and William Levy
The story, from New York Times Bestselling author Caridad Piñeiro, focuses on rival quinceañeras, "glorious Cuban cooking, friendship, family ties," and, of course, romance.
Hallmark viewers will know Taylor Cole quite well, as she's starred in many movies for the channel, including the Hallmark Movies & Mysteries film series, Ruby Herring Mysteries, and several of the more romantic options, like the One Winter Weekend franchise, My Summer Prince, Christmas in Homestead, Christmas Festival of Ice, The Art of Us, Falling for You, and Unlocking Christmas. Cole has also been seen in The Originals, Salvation, Heroes, The Event, CSI: Miami, The Glades, Supernatural, and Ballers. William Levy was already known to Latin American audiences for his work on a number of Spanish-language shows like Acorralada, and Don't Mess with an Angel,but his appearance in Jennifer Lopez's I'm Into You music video in 2011 opened up even more opportunities. Levy has been in Single Ladies, The Single Moms Club, Resident Evil: The Final Chapter, Girls Trip, and Star.
The Vows We Keep - Hallmark Movies & Mysteries - Sunday, October 10, 9 p.m. EST
Starring: Fiona Gubelmann, Antonio Cayonne, and Linda Thorson
After finding out that the Rosewood, the place where her parents were married, is being sold, event planner Hazel (Gubelmann) is now under a serious time crunch to plan her sister's perfect wedding. Hazel makes a deal with Jared (Cayonne), who's preparing the historic inn for sale: she'll make sure that all the wedding events happen prior to the sale so that it can go off without a hitch. But, as they work together, they're reminded of how important traditions are.
Fiona Gubelmann is probably best known to fans of ABC's The Good Doctor, where she's played Dr. Morgan Reznick since 2018. She also had main roles in Wilfred, and One Day At a Time, also appearing in shows such as Lethal Weapon, Lucifer, iZombie, and American Housewife. Gubelmann has starred in Hallmark originals like Easter Under Wraps and Royally Ever After. Antonio Cayonne has been in several Hallmark movies himself, such as Christmas in Evergreen: Tidings of Joy, Fashionably Yours, and Matching Hearts, and has also been seen in The Mighty Ducks: Game Changers, Psych 2: Lassie Come Home, Chesapeake Shores, UnREAL, and played Colin Andrews on iZombie. Linda Thorson has over 80 screen credits, beginning in 1968 when she replaced Diana Rigg on The Avengers. Since then, she's been in series like Emmerdale Farm, The Hardy Boys, Good Witch, and Schitt's Creek.
Advice To Love By - Saturday, October 16, 9 p.m. EST
Starring: Erinn Westbrook and Brooks Darnell
After an author who gives potentially questionable love advice meets a columnist who specializes in writing about dating, they both find themselves with an attraction that begins to turn into something more. When each of them start to use their own specialized strategies to get closer to the other, they might soon find out that they've actually, finally, met their match.
Erinn Westbrook will be known for playing Tabitha Tate on Riverdale, Adaku on The Resident, Magnolia on Insatiable, and Klara on How to Be a Vampire. Westbrook has also been seen in Glee, Awkward, Mr. Box Office, Jane the Virgin, Twisted, Supernatural, NCIS, The Night Shift and Legacies. Brooks Darnell starred in Hallmark's A Winter Getaway and A Christmas Miracle, but has also starred in The Young and The Restless, and appeared in Shadowhunters, The New Edition Story, and Breakout Kings.
You, Me & The Christmas Trees - Friday, October 22, 8 p.m. EST
Starring: Danica McKellar, Benjamin Ayres, and Jason Hervey
Connecticut's resident evergreen tree expert, Olivia (McKellar), agrees to help fir farmer Jack (Ayres) with his crop days before Christmas. Fourth generations farmer Jack is unsure what mysterious illness has befallen his trees, but his family's 100 year old business is now at risk as the Christmas crop begins to die. But, while Olivia extends her stay in town to help Jack root out the issue, they find themselves beginning to develop feelings for one another that go beyond their working relationship.
Danica McKellar will be known to many from her long tenure in Hollywood, especially her time on The Wonder Years from 1988-1993 as Winnie Cooper, and her many other Hallmark movies like Christmas She Wrote and Christmas at Grand Valley. Benjamin Ayres is recognizable from shows like Suits and Burden of Truth, plus Hallmark films like Cranberry Christmas and Falling for Vermont. Jason Hervey was also a member of The Wonder Years cast, playing Wayne Arnold for its run.
Boyfriends of Christmas Past - Saturday, October 23, 8 p.m. EST
Starring: Catherine Haena Kim, Raymond Ablack, and Paul Sun-Hyung Lee
Marketing executive Lauren (Kim) is visited by the ghosts of four ex-boyfriends in the lead up to Christmas. She has to learn to open her heart to love, or risk losing her best friend, Nate (Ablack) forever.
Catherine Haena Kim will be familiar to fans of shows like Good Trouble, FBI, and Ballers, where she's had recurring roles, while Raymond Ablack was in Ginny & Georgia as Joe, most recently, and has also appeared in Nurses and starred on Degrassi: The Next Generation as Sav. Paul Sun-Hyung Lee is best known for his role as Appa on Kim's Convenience, but has also appeared in The Mandalorian and the Hallmark Christmas movie Heart of the Holidays.
Christmas In My Heart - Hallmark Movies & Mysteries - Saturday, October 23, 10 p.m. EST
Starring: Heather Hemmens, Luke Macfarlane, and Sheryl Lee Ralph
When concert violinist Beth (Hemmens) returns home after the death of her mother, she meets a promising young violinist, who just happens to be the daughter of country music star Sean Grant (Macfarlane), who's been living a quieter life in town since his wife passed away. Sean's mother-in-law, Ruthie (Ralph), believes it's time for him to begin to move on with his life, and when his daughter convinces Sean to hire Beth as her tutor, the two find out how healing music and friendship can be.
Heather Hemmens has had a major role on Roswell, New Mexico since 2019, and will also be known for her part in the Dad Stop Embarrassing Me! cast, If Loving You Is Wrong, and Yellowstone, and was also in the Hallmark movie Love, Take Two. Luke Macfarlane has been in many Hallmark films, starring in Taking a Shot at Love, A Valentine's Match, A Shoe Addicts Christmas, and many more. He also had starring roles in Killjoys and Brothers & Sisters, having also appeared in shows like The Night Shift, Mercy Street, and Supergirl. Sheryl Lee Ralph has over 100 credits, dating back to 1977, and has lent her talents to shows such as Moesha, Designing Women, Ray Donovan, Fam, and Motherland: Fort Salem, while appearing in movies like The Mighty Quinn and Hallmark's Christmas Comes Twice.
The Santa Stakeout - Sunday, October 24, 8 p.m. EST
Starring: Tamera Mowry-Housley, Paul Campbell, and Joe Pantoliano
Police detective Tanya (Mowry-Housley) is reluctantly partnered with co-worker Ryan (Campbell) to go undercover as newlyweds in the hope of solving a string of heists happening at high-profile holiday parties in their community, moving next door to Mr. Miller (Pantoliano), who's their main suspect. As the duo take part in holiday events to try to solve the case, they grow closer to their cover story becoming a reality.
Tamera Mowry-Housley is beloved from her time on Sister, Sister and as a co-host on the talk show The Real, as well as her work in projects like The Hot Chick, Twitches, Strong Medicine, and the Hallmark movie Christmas Comes Twice. Paul Campbell will be recognizable for his many appearances in Hallmark fare, such as Christmas by Starlight, and Holiday Hearts, though he's also known for playing Billy Keikeya on Battlestar Galactica. Joe Pantoliano has been in many popular movies and shows over the years, including The Sopranos, The Matrix, and the Bad Boys franchise.
Christmas in Harmony - Friday, October 29, 8 p.m. EST
Starring: Ashleigh Murray, Luke James, Loretta Devine, Michelle Williams, and Basil Wallace
Harmony (Murray) is tricked into auditioning for the holiday chorus and realizes it's being directed by her ex-boyfriend. By Christmas Eve, they could be much more than exes.
Ashleigh Murray is probably best known for her time playing Josie McCoy on Riverdale and Katy Keene, while Luke James is familiar for his time on Fox's Star, and Showtime's The Chi, and for playing Sean Combs in Unsolved: The Murders of Tupac and the Notorious B.I.G. Loretta Devine is famous for her work in Waiting to Exhale, Crash, Boston Public, Being Mary Jane, Supernatural, Grey's Anatomy, The Carmichael Show and well over 100 other TV shows and movies. Michelle Williams is best known for her time in musical sensation Destiny's Child, but also competed on The Masked Singer in 2019 and appeared in American Soul that same year to portray Diana Ross. Basil Wallace has lent his talents to shows like NCIS: Los Angeles, Burn Notice, The West Wing, and CSI.
Coyote Creek Christmas - Saturday, October 30, 8 p.m. EST
Starring: Janel Parrish and Ryan Paevey
Paige (Parrish) offers to plan the yearly holiday party, which will take place at her parents' Coyote Creek Inn, in an effort to nab a big promotion with the event planning company she works for. She soon meets single dad Dylan (Paevey), who, unbeknownst to her, is a real estate developer whom her parents are considering selling their inn to. The fate of the inn and Paige's relationships are then left to the magic of the holidays.
Janel Parrish is most recognizable from her long-running stint as Mona Vanderwaal on Pretty Little Liars and its spinoff, The Perfectionists, but she's also known for playing oldest sister Margot in the To All The Boys I've Loved Before cast for the film series. She's also been in several Hallmark films, including Right in Front of Me, and Holly & Ivy. Ryan Paevey starred on General Hospital from 2013 through 2018, and has led many Hallmark originals like the Mr. Darcy franchise, Harvest Love, Hope at Christmas, A Summer Romance, and the recently released A Little Daytime Drama. He's also appeared in BET's Games People Play, Brooklyn Nine-Nine, and The Client List.
The Christmas Promise - Hallmark Movies & Mysteries - Saturday, October 30, 10 p.m. EST
Starring: Torrey DeVitto and Dylan Bruce
Nicole (DeVitto) has to learn how to cope with her deep grief after the death of her fiancé, when she decides to renovate the home that was meant for the two of them. Luckily, she'll have the help of her grandfather and the carpenter she hired to complete the work there to assist her.
Torrey DeVitto will be known to fans of NBC's One Chicago lineup from her long-time role as Dr. Natalie Manning on Chicago Med. The actress has also appeared on shows like Pretty Little Liars, One Tree Hill, The Vampire Diaries, and Army Wives, while also starring in the Hallmark film, Write Before Christmas. Dylan Bruce played Paul Dierden on Orphan Black for three years, and has also had large roles in shows like As the World Turns, Heroes Reborn, Arrow, and Midnight, Texas.
Christmas Sail - Sunday, October 31, 8 p.m. EST
Starring: Katee Sackhoff, Patrick Sabongui, Terry O'Quinn
After Liz (Sackhoff) returns home with her young daughter to help care for her estranged father, she decides to make the trip the perfect Christmas, and also reunites with her former best friend.
Katee Sackhoff came to prominence with her role as Kara "Starbuck" Thrace on Battlestar Galactica, and went on to star or guest star in 24, Longmire, Another Life, The Flash, Nip/Tuck, The Mandalorian, and many other series. She's also appeared in films like Oculus and Riddick. Patrick Sabongui has played Chief David Singh on The Flash since Season 1, and has also had notable parts in Virgin River, Firefly Lane, Homeland, Get Shorty, and Shooter. Terry O'Quinn will be known to Lost fans, as he portrayed John Locke during the show's celebrated run. O'Quinn has over 120 additional screen credits, including FBI: Most Wanted, Hawaii Five-0, Castle Rock, The Blacklist: Redemption, The West Wing, Alias, and Millennium.
Open By Christmas - Friday, November 5, 8 p.m. EST
Starring: Alison Sweeney, Erica Durance, and Brennan Elliott
After Nicky (Sweeney) comes across an unopened Christmas card from a secret admirer she had in high school, she and her best buddy, Simone (Durance), attempt to find the anonymous writer so she can thank him.
Alison Sweeney has played Sami Brady on Days of Our Lives since 1993, and the actress has starred in the Murder, She Baked mystery franchise since 2015. Sweeney has also appeared in several other Hallmark movies, such as Good Morning Christmas!, The Irresistible Blueberry Farm, and Love on the Air. Erica Durance will largely be known for her role as Lois Lane on Smallville, but has also lent her gifts to shows like Supergirl and Saving Hope, where she led the cast from 2012-2017. Brennan Elliott is a veteran of Hallmark movies like the All of My Heart series, Christmas in Vienna, and The Crossword Mysteries franchise. He's also appeared in Strong Medicine, UnREAL, Cedar Cove, Criminal Minds, and movies like Night at the Museum: Secret of the Tomb, and Curse of Chucky.
Be sure to bookmark this list so you can check back regularly and get all of the updated info on what new Hallmark movies will be coming our way over the next few months, as we'll be adding details on upcoming projects as soon as they're announced!
Bachelor Nation, Gilmore Girl; will Vulcan nerve pinch pretty much anyone if prompted with cheese...Yes, even Jamie Fraser.
Your Daily Blend of Entertainment News
Thank you for signing up to CinemaBlend. You will receive a verification email shortly.
There was a problem. Please refresh the page and try again.