The 10 Most Popular Movie Stars In The World, According to Fandango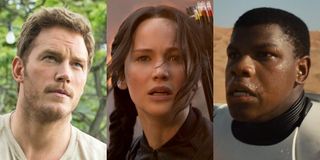 Next year should be a great 12-month stretch for moviegoers. Some of the most highly anticipated movies in recent memory are being released throughout 2015, such as Star Wars: Episode 7, Avengers: Age of Ultron and the final installment of The Hunger Games franchise. With them comes some of the biggest movie stars of all time, as well as stars in the making. But which celebs are the biggest ones in the industry, as far as the fans are concerned? A new poll has revealed all the answers.
The folks over at Fandango (opens in new tab) surveyed more than 1,000 movie fans and polled them on which stars and films they're most anticipating to see grace the screen in 2015. Naturally, Star Wars, Avengers and Hunger Games topped the film categories, and the actor lists were very much a reflection of this ranking. Here is the complete list of the fan favorite movie stars who will be toplining 2015 movies:
Actresses
1. Jennifer Lawrence (The Hunger Games: Mockingjay - Part 2, Joy)
2. Scarlett Johansson (Avengers: Age of Ultron)
3. Angelina Jolie (By the Sea)
4. Melissa McCarthy (Spy)
5. Halle Berry (Kidnap)
Actors
1. Robert Downey Jr. (Avengers: Age of Ultron)
2. Chris Hemsworth (Avengers: Age of Ultron, Blackhat, In the Heart of the Sea)
3. Daniel Craig (Spectre)
4. Chris Pratt (Jurassic World)
5. Tom Cruise (Mission: Impossible 5)
Jennifer Lawrence is an obvious first-place holder; she's already one of the most beloved modern celebrities. The same goes for Chris Pratt - who transformed from the loveably plump Andy Dwyer into the leader of the Guardians of the Galaxy - and Chris Hemsworth, who has a big year ahead of him and recently earned People Magazine's coveted title of Sexiest Man Alive. A surprising name that made the cut, though, is Angelina Jolie. The Unbroken director will star in next year's By the Sea, a film that will reunite her with her husband, Brad Pitt, for the first time since they starred together in Mr. and Mrs. Smith. Apparently, people are pretty excited to see that happen.
More than just ranking the big name actors of the moment, however, Fandango also polled their audience about who they believe will be the male and female breakout movie stars of the coming year. For those of you who have been regularly following news updates over the last year or so, some of these names should really be no brainers:
Actresses
1. Daisey Ridley (Star Wars: The Force Awakens)
2. Lily James (Cinderella, Pride and Prejudice and Zombies)
3. Dakota Johnson (Fifty Shades of Grey, A Bigger Splash)
4. Kate Mara (The Fantastic Four, The Martian)
5. Sofia Boutella (Kingsman: The Secret Service)
Actors
1. Jamie Dornan (Fifty Shades of Grey)
2. John Boyega (Star Wars: The Force Awakens)
3. Levi Miller (Pan)
4. Neel Sethi (The Jungle Book)
5. Tony Jaa (Furious 7)
Unsurprisingly, Fifty Shades and Star Wars are the repeated titles in these categories. Both have such large fan bases already, and their leading stars haven't yet had their big breakthrough performances. Model-turned-actor Jamie Dornan, for one, is great in BBC's The Fall, but the billionaire BDSM-obsessed Christian Grey has already turned him into a major Hollywood heartthrob. Daisy Ridley and John Boyega, also largely unknown prior to their saga casting, are bound to land some juicy gigs after the world sees them in action opposite Harrison Ford, Mark Hamill and Carrie Fisher. Thai martial artists Tony Jaa is an unexpected choice, though, considering he's not technically a "breakout" star; he's already been the star of his own franchise with the rather massively Ong-bak movies. Sofia Boutella, on the other hand, is an up-and-comer, though to say her role in Kingsman is a breakout role might be a bit of an overstatement.
It's interesting to see which films are on peoples' radars. Elsewhere in the Fandango survey, Minions, Disney's live-action Cinderella and Pixar's next film, Inside Out, all topped the most-anticipated family friendly movies of 2015. But which films and stars are you most interested in? Let us know in the comments.
Your Daily Blend of Entertainment News
Your Daily Blend of Entertainment News
Thank you for signing up to CinemaBlend. You will receive a verification email shortly.
There was a problem. Please refresh the page and try again.