10 Things To Take Away From The Into The Woods Footage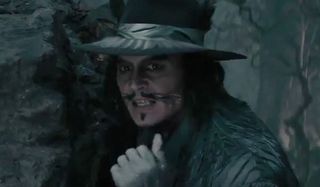 I am beginning to think Disney's Into The Woods may kill me, it so enjoys toying with my heart. Just yesterday the reveal of the long-shrouded Wolf--brought to life by Johnny Depp, a zoot suit and a costume shop explosion--slaughtered my expectations for this movie musical translation of the Stephen Sondheim Broadway production. But now Disney has unveiled the gorgeous new Into the Woods featurette you see above, which gives us our best look yet at this sprawling world of fairy tales gone feral.
There's a lot to take in here, both good and bad. So, let's delve deep Into The Woods' latest featurette for clues of what's to come!
Some Singing!
This might seem an obvious inclusion considering Into the Woods is a critically-heralded Broadway musical. But so far Disney has been frustrating in its withholding when it comes to actually showing its cast sing. A teaser released a few months ago teased the opening song, which has all the characters singing the confession, "I wish!", but notably none of them sang it. It's a relief to finally hear even a few notes of the show's songs sung here.
Sexy Cinderella
There's a few flirty moments in this featurette, but something about the way her prince clutches Cinderella's (Anna Kendrick) foot as he slips it into her iconic slipper seems especially salacious. This will, of course, be a family-friendly movie with a PG-rating. But last I checked, the MPAA didn't have a cap on how much smolder can be in a kids movie.
Picture Perfect Princes
I heaved a heavy sigh when Jake Gyllenhaal left Into the Woods, but his replacement Billy Magnussen makes a suitably pretty peer to Chris Pine. Both play princes--charming but not sincere--who know that love is "Agony." Or so their song will go! Also, can we acknowledge the hilarity of having these two princes whining in the middle of a waterfall?
A Cut Scene Rescued!
Speaking of princes, Disney also gives us a glimpse of a scene that Stephen Sondheim himself had confessed had been cut from the feature. But this look at a wooed Baker's Wife (Emily Blunt) tells us that the saucy song "Any Moment," is still in Into The Woods. Be warned: anything can happen in the woods!
Streep Revels In Her Wicked Role
In a brief interview, Meryl Streep says of the film, "Nobody ever gets the chance to play this kind of heightened reality." For the icon of acting, this meant playing the ultimate wicked witch who can appear in a flash to hassle the likes of the Baker (James Corden) and his wife (Emily Blunt). Full Disclosure: this brief bit--of her bellowing "Who Cares!?"--made me laugh out loud.
Before there was Tangled
There was "Our Little World," a song where the witch comforts her stolen daughter Rapunzel (Mackenzie Mauzy), a girl grown beautiful but frustrated by her claustrophobic, tower-centric upbringing.
Enchanting Visual Effects
A witch who can vanish in a whirl, the swirl of leaves around a lost girl... these are hints that suggest director Rob Marshall might be bringing us something as his dazzling Oscar-winner Chicago. It's a big relief, because our first look at footage from the film was underwhelming to say the least.
Watch Out For Giants!
A recent take on the classic "Jack and the Beanstalk" story was the flop Jack the Giant Slayer, stacked with unimpressive CG giants. Here we see Into the Woods will have a giant of its own. However, we may not see much more than this, which might be for the best. There's lots of other spectacle built in here. No need to look up to see what giants look like.
A Proper Little Red Riding Hood
Little Lilla Crawford leaps from Broadway's Annie to the role of the little girl who carries a basket but no sense of stranger danger. It may be too soon to judge, but based on the appearance alone it seems Rob Marshall's gone in a different direction with the story of Red Riding Hood in his film. In the Broadway show, she's a brat -- not to put too fine a point on it. But in this featurette, her unruly curls are ditched for delicate braids, and she never looks the least bit rowdy. But perhaps this is the before -as in before she meets that Wolf!
That Awful Wolf
There's a lot to like in this featurette. But every time I see Johnny Depp's ludicrous Wolf, I cringe. His zoot suit and fedora seem like they belong in a completely different movie. And while I admire Depp resisting the urge to kick into the pancake white makeup he's so often drawn too, this look doesn't read wolf to me. This bizarre character design coupled with his casting has me deeply conflicted.
I mean look at this:
And this:
And this:
This lead up to Into the Woods is proving to be a real emotional roller coaster for me. I am both eagerly anticipating and dreading Into the Woods. Apparently, I contain multitudes. And all the feels.
Into the Woods opens this Christmas.
Your Daily Blend of Entertainment News
Staff writer at CinemaBlend.