Into The Woods: A Timeline Of How I Went From Pumped Up To Horrified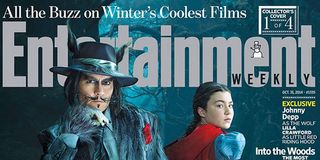 That's it. I'm done. With the long-awaited revelation of what Johnny Depp's Wolf will look like in Disney's adaptation of Stephen Sondheim's Into the Woods, I'm out. My hope has been slaughtered like the characters in this movie version may never be! (To allow for a family-friendly PG-rating, don't you know.)
How did I come to this place of hopelessness and despair? There was a time when I was eager to see Into The Woods' enthralling and rich Broadway musical of twisted fairy tales get a huge, shiny, big-screen translation. Let's step through the news that in turns won my interest and broke my heart with a helpful timeline. And GIFS. Naturally.
January 2010
Disney announces plans to have Rob Marshall direct Into the Woods, the same Rob Marshall who transformed the jazzy, sex-fueled Bob Fosse show Chicago into a sinfully fun and visually striking, six-time Oscar winner. Game on!
February 2013 The one and only Meryl Streep is set to play the evil Witch at the center of Into the Woods. In my opinion, Streep doesn't get enough credit or acclaim for her turns as devilish women (see Death Becomes Her, She-Devil). Yes, please!
April 2013 Johnny Depp enters into talks. The same Johnny Depp who has become a kind of parody of his former self, now turning in over-the-top performances like that seen in Dark Shadows. This was actually months before I saw Lone Ranger and penned my treatise on how Depp has become Mike Myers. Still, his increasingly cartoonish portrayals worry me.
May 2013
Casting heats up with Into the Woods adding Broadway star/Doctor Who standout James Corden as the hero Baker! Emily Blunt as his wandering wife! Chris Pine and Jake Gyllenhaal as the agonized princes! While the latter three have me wondering about the musical caliber of this movie musical, I'm intrigued…
Shall we continue? It's about to get slightly better before it gets worse. June 2013
Pitch Perfect's Anna Kendrick enters into talks for Cinderella's role and Les Miserables' little Daniel Huttlestone eyes Jack of the beanstalk fame. Tracey Ullman joins the cast as Jack's mother. I'm getting flashes of Robin Hood: Men in Tights and I like it.
July 2013
Jake Gyllenhaal must bail on his princely duties to pursue Nightcrawler, but he's replaced by handsome Tony Award nominee, Billy Magnussen, so...
August 2013
For the role of Red Riding Hood, Rob Marshall's said to be considering Sophia Grace Brownlee, the spunky child songtress who became a daytime TV sensation thanks to Ellen DeGeneres. Hold the phone--they're making Red an actual little girl? But…in the play Into the Woods it's implied that the teen girl is seduced by the Wolf, who will be played by Johnny Depp. Does this mean Disney's cutting this implication out to make the movie more family friendly? Or is Depp really going to flirt with a girl 40 years his junior? Either way:
September 2013
Production begins. Sophia Grace is out, Lilla Crawford, 12, of Broadway's Annie is in, offering a slightly older looking Red Riding Hood. And I'm convinced that the tricky sexual subplot has been axed.
But soon comes the first still from Rob Marshall's Into the Woods! It's Meryl! And it's…underwhelming. She looks essentially like an extra in the Harry Potter movies, not an iconic villainess in her own right.
Still here? Because right around now, the waters start to get choppier. June 2014
First, Stephen Sondheim confirms my fears that Disney has sanitized his mature take on fairy tales, taming the tales of the Baker's wife, Rapunzel, and Red Riding Hood. But within days he was backpedalling, insisting that the Baker's wife would have her "Any Moment" moment of indiscretion after all.
July 2014
Finally, finally Rob Marshall grants us our wish for a more detailed look at Into the Woods by unveiling a series of cast photos. (My personal favorite is of Cinderella's snarking evil step family!) Lots of good stuff here, but the only shot of Depp's Wolf has his face hidden. What's the deal?
The first trailer soon follows. But Disney went with a bizarre gambit by creating a teaser for a musical that includes NO singing. None. It is still a musical, right? RIGHT!?
Which brings us to...
Today
Entertainment Weekly gives us our first look at Depp's full Wolf regalia. And instead of looking like a fearsome wolf who prowls the forest looking for innocents to corrupt, he looks like a douchebag's Halloween costume. And why is his face free of monster makeup save some bushy brows and a twiggy mustache? No part of this look makes sense to me. From the pristine fedora to the cheap monster gloves, pinstriped suit that's trying to read gangster but instead reads "swing kid," I am perplexed. World of Nope.
I won't lie. I will still see Into the Woods, mostly because it's my job. But where Rob Marshall's Chicago used cinema to bring the flirty fun and scandalous sensations of its Broadway music to the big screen, it's looking like Into the Woods has willfully chopped out those horrid elements that helped make it so unique and unforgettable. Some of this I could conceivably forgive. But Disney's continued enabling of Johnny Depp's downward spiral into ludicrousness? I don't think I have it in me.
Into the Woods opens Christmas Day.
Your Daily Blend of Entertainment News
Staff writer at CinemaBlend.