Stephen Sondheim Reveals Radical Changes Disney Made To Into The Woods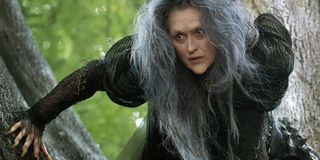 Are you a fan of Stephen Sondheim's Into The Woods? Were you looking forward to Disney's tentpole movie musical version of it? Well, if you said yes to both, we've got bad news. Disney is dumbing down the heralded Broadway musical to make it more palatable for children. We should have seen it coming, but it's still a bummer.
The New Yorker (via Indiewire) sat down with Stephen Sondheim, who revealed that Disney has made some major changes to his Into The Woods. Simply put, Disney took out all hints of sex and one crushing death. You might think, "Well that makes sense for a kid's movie!" But Sondheim's Into The Woods was never really intended for kids. Nonetheless, specifics and spoilers lie below.
Into The Woods is a musical that weaves together a slew of fairy tale stories like "Little Red Riding Hood," "Rapunzel," "Cinderella, and "Jack and the Beanstalk" to tell a dark story meant mainly for adults. Among the more troubling elements of the stage show is a scene where pretty Rapunzel is trampled to death by an enraged giantess. Sondheim relays this death has been cut, as has the plot point where the Baker's Wife (played in the movie by Emily Blunt) cheats on her husband (James Corden) by bedding Cinderella's Prince (Chris Pine). Fans of the show are already outraged because that means the saucy song "Any Moment" has "probably" been cut. In its place, Sondheim's been asked to pen a replacement song, presumably one that won't have the pair giving into temptation.
See what we'll be missing in Disney's Into The Woods below:
And the final change is one we've suspected since early casting suggested little Sophie Grace Brownlee (of Ellen fame) was up for the role of Little Red Riding Hood. In the play, Little Red is on the verge of womanhood and the Wolf who stalks her has an air of danger and sex about him. In fact, Litte Red's big song is read by many as being about a deflowering of sorts. Listen to it below:
Disney ultimately went with Lilla Crawford from Broadway's 2013 production of Annie for the role of Little Red. By casting a kid, Disney cemented the plan to neuter the Wolf's racy intentions.
Considering the big money Maleficent is making for Disney, perhaps we shouldn't be surprised that they are taking a sophisticated but dark musical and sanitizing it to have the most commercial appeal possible. Still, I'm disappointed. Disney hired Rob Marshall, the helmer of the smoking-hot Chicago adaptation. They cast Meryl Streep, Anna Kendrick, Johnny Depp, Chris Pine, Christine Baranski, Emily Blunt, Tracey Ullman, James Corden and many more. And then they decided to play to fretful parents and toddlers. Still, I appear to be more annoyed than Sondheim.
He told The New Yorker:
Disney's Into The Woods will open December 25th, 2014.
Your Daily Blend of Entertainment News
Staff writer at CinemaBlend.