Jake Gyllenhaal Replaced By Tony Award Nominee For Into The Woods, More Sign On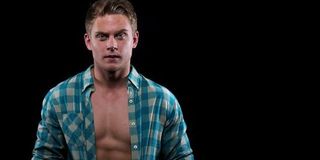 It was just two months back that Jake Gyllenhaal had us swooning over reports he'd play a prince in Rob Marshall's movie musical adaptation of Stephen Sondheim & James Lapine's fairy tale themed Into the Woods. But then we knew "Agony" when Gyllenhaal had to give up the role of Rapunzel's prince when his prior commitment to Dan Gilroy's directorial debut Nightcrawler caused an insurmountable schedule conflict. But rather than reconsidering Cheyenne Jackson, who played the part in a reading Marshall hosted last Fall, the celebrated Chicago helmer has found a new prince to woo the long-haired princess in former As the World Turns' star Billy Magnussen.
The 28-year-old actor has appeared in a handful of indie films, including Whit Stillman's Damsels in Distress, Ramaa Mosley's The Brass Teapot, and Zal Batmanglij's political thriller The East. But his more relevant work might be his performances on Broadway, where he is currently starring in in the comedy Vanya and Sonia and Masha and Spike. He has earned a Tony nomination for the play. But can he sing? Yep. And he can do it while he plays guitar to boot:
Magnussen joins a cast that already boasts Meryl Streep as The Witch, Johnny Depp as The Wolf, Broadway star James Corden as The Baker, Emily Blunt as The Baker's Wife, Tracey Ullman as Jack's Mother, and Chris Pine as Cinderella's Prince. Broadway World reveals a fuller cast list, showing Anna Kendrick is confirmed for Cinderella, and Christine Baranski has snagged the role of Cinderella's mother. Bold and the Beautiful alum Mackenzie Maury, who performed in the ensemble of the 2008 Broadway musical A Tale of Two Cities, will play Magnussen's Rapunzel. And lastly, British comedienne Lucy Punch (Bad Teacher, Hot Fuzz) and Moneyball's Tammy Blanchard will play Cinderella's hilariously spoiled sisters Florinda and Lucinda. Though Les Miserables' Daniel Huttlestone was in talks for the role of Jack, Broadway World reports the casting of that part as well as that of Little Red Riding Hood have not yet been confirmed.
Into the Woods is expected to shoot this fall. In the meantime, imagine what fun it will be to see Magnussen and Pine singing this wonderfully absurd love song:
Staff writer at CinemaBlend.
Your Daily Blend of Entertainment News
Thank you for signing up to CinemaBlend. You will receive a verification email shortly.
There was a problem. Please refresh the page and try again.