16 Secrets Tom Hanks Shared During His AMA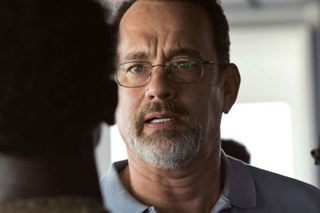 With all due respect to George Clooney, there is no actor in the world people like more than Tom Hanks. Most politicians would murder someone to get anything close to his approval ratings. So, when it came time to publicize his new film, Captain Phillips, it's no surprise producer Scott Rudin suggested he sign up for an Ask Me Anything session on Reddit. After all, what could possibly sell a Hanks movie better than Hanks himself?
While not nearly as maniacal and high energy as Robin Williams' AMA last week, Hanks' effort did produce more than its share of candid and fascinating moments. I've gone ahead and boiled down the dozens and dozens of reveals to several of the most interesting below.
Hanks isn't bothered by mixed reactions to his movies. You can't control what other people think of your work. "Nothing effects the love of making a movie", and besides, in his estimation, very divisive works like Cloud Atlas will be around forever.
Don't expect Bosom Buddies to start running more in syndication. The show wasn't shot in HD, and more than thirty years later, the picture quality is "terrible".
Because of his incredible success, sometimes Hanks deals with really vague pitches. The actor's beloved production company Playtone was apparently approached by HBO to make "another World War II series". Fortunately for fans, Hanks and Gary Goetzman agreed. They've decided to work from a Don Miller book, and we will see that brilliance eventually.
Wilson's whereabouts are known! After filming, Hanks took his treasured friend home. He still has the original, and he periodically signs copies for various charitable causes.
Hanks has incredibly fond memories of That Thing You Do. In fact, his directorial effort is the only film he's ever done that he wishes he could work on again. Considering how much fun that movie is to watch, that reveal probably shouldn't surprise anyone, except maybe Cap'n Geech & The Shrimp Shack Shooters.
Tom REALLY loves all things Disney.: Not only is the actor playing Walt Disney in Saving Mr. Banks, he cited "There's A Great Big Beautiful Tomorrow" from the Carousel of Progress as the song currently stuck in his head at the moment. Considering Hanks is allegedly a member of Club 33, that seems about right.
Tom Hanks knows exactly where he'd go if he were given a time machine. "I would go back to NYC in 1939 for the smells and food and people -- to see the City when it was at a different scale than now. to see the worlds fair and eat Cheesecake at Lindy's. I'd only want 24 hours to do it all."
Other random Hanks facts…
Favorite Sandwich: Ham and swiss on spelt. Mustard only and a bit of lettuce. Not tomato.
Movies He's Currently Into: Looper and Das Boot.
Theme Park Ride He'd Like To See: Captain Phillips Life Boat Launch Experience
Movie He Wishes He Was In: 2001 A Space Odyssey.
Best Smelling Actor He's Ever Worked With: Peter Scolari.
Favorite Cloud Atlas Character: Hotel Desk Clerk.
Why He Loves Mr. Short Term Memory: "What are you talking about? Who? Huh? What was the question? Why am I typing this?"
What Friends Character He's Most Like: The Ugly Naked Guy.
Where His Coolness Comes From: Oakland.
Enthusiastic about Clue, case-of-the-week mysteries, the NBA and cookies at Disney World. Less enthusiastic about the pricing structure of cable, loud noises and Tuesdays.
Your Daily Blend of Entertainment News
Thank you for signing up to CinemaBlend. You will receive a verification email shortly.
There was a problem. Please refresh the page and try again.