After 17 Nominations, Is Megan Ellison The New Super Producer?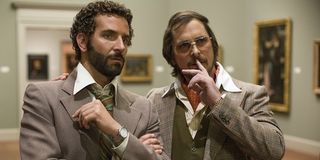 Is Megan Ellison the new face of independent cinema? Sure seems so; the producer has loudly made her presence known in the industry since teaming with her brother David in bringing the True Grit remake to the screen. This morning, she's looking especially golden: Ellison-produced films scored seventeen Oscar nominations, including ten for prospective frontrunner American Hustle. The five that are included for Her don't even include the snubs for that film in any and all acting categories, while Ellison's The Grandmaster registered two nominations OUTSIDE of Best Foreign Film.
For years the mark of Oscar excellence was Harvey Weinstein and The Weinstein Company, and in 2013 he had several horses, enough to push The Immigrant, Grace Of Monaco, Snowpiercer and others into 2014. But the end result was only eight nominations spread across three films. TWC deserves credit for getting the mild Philomena four nods, including Best Picture. But August: Osage County, a film seemingly reverse-engineered to score Oscar gold, only grabbed two acting nominations. And the other two acknowledgements for The Weinstein Company are for The Grandmaster, a film produced by Ellison. The studio campaigned hard for Lee Daniels' The Butler and Fruitvale Station and neither film scored a single nomination, while TWC's Mandela: Long Walk To Freedom only secured attention in the Best Original Song category.
Last year films produced under Ellison's Annapurna Pictures garnered eight Oscar nominations, but it was a relatively rocky year. The Master was shut out of its three acting nods, and the film was said to have lost a good amount of money. And Best Picture nominee Zero Dark Thirty scored five acknowledgements, but only went home with Best Sound Editing amongst a wave of hard criticism for the picture's politics. This is also a year in which Annapurna released Killing Them Softly, one of only eight films to receive an 'F' Cinemascore from audiences.
Now Ellison is sporting two Best Picture nominees, including the likely winner. What's interesting is that the films Ellison has produced thus far say a great deal about contemporary American life. American Hustle is a period piece that feels achingly modern, an auteurist cry for help for the sake of authenticity in the middle of increasingly insincere institutions. What is Bradley Cooper if not another frustrated filmmaker/dream-maker who is frustrated that what he struggles for comes easily to his associate competitor Christian Bale? Who is Amy Adams if not always on the razor's edge of being in control and being used? No wonder this movie is so popular within the industry: it's like a Hollywood pitch meeting writ large, and Jennifer Lawrence is the absolutely insane suit making arbitrary demands and going home with the money anyway?
Her is another film of a different era – this one an unspecified future – but nonetheless uniquely attuned to modern living. Joaquin Phoenix's (strangely not-nominated!) Theodore is tragically (but not uniquely) attached to the potential of technology to ease his pain and provide the genie-in-a-bottle satisfaction he needs. The film itself works not only as a critique of our technologically-obsessed hang-ups, but also, touchingly, about our need for intimacy, and our willingness to lie to ourselves to get it. Using science to fix the heart. Ellison came on late to The Grandmaster, though it's impossible to ignore that it's an immaculately directed love story from Wong Kar-Wai, one of the world's great filmmakers. Had there not been the Weinstein-driven controversy over that film's heavily shortened cut for American audiences, the picture could have gotten even more nominations, at the very least recognition in the Best Foreign Film category. Ellison also produced this year's Spring Breakers, which received no nominations but captured the zeitgeist better than any of Weinstein's films, no matter how hard people try to make PHILOMANIA happen.
Next year, Annapurna is behind the delayed Foxcatcher, a dark psychodrama with Mark Ruffalo, Channing Tatum and Steve Carell that may get awards attention, though she's devoting most of her energies to a new Terminator saga. We may all roll our eyes at another in the killer-robot saga, but with Ellison's involvement, everything changes. Judging only by this year, one could argue that an Ellison film is something of an event, and a new opportunity to discuss how cinema reflects upon the country we live in today. And it looks like the Oscars know that as well.
Your Daily Blend of Entertainment News