The 20 Best Spaghetti Westerns, According To Quentin Tarantino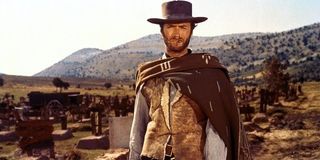 No one likes making a list more than Quentin Tarantino. The beloved filmmaker annually updates his fans with his favorite movies of the past 12 months, while he also enjoys amassing lists of his most cherished films from throughout history as well. In fact, the Pulp Fiction, Reservoir Dogs, and Kill Bill director has even gone as far as to list his favorites of the Spaghetti Western genre - and you probably won't be surprised about what came out on top.
Tarantino revealed his list to Spaghetti-Western.net, and you can have a gander at his choices below:
It's no surprise that the iconic Sergio Leone dominates Tarantino's list, with three of the Italian filmmaker's seminal westerns taking up the top five spots. It's just A Fistful Of Dollars that falls short. And while Once Upon A Time In The West and For A Few Dollars More are sandwiched by Sergio Corbucci's The Mercenary and the original Django, it's understandable why The Good, The Bad And The Ugly comes out on top.
The 1966 western epic is arguably the most lusciously shot film ever made, while these visuals are perfectly coupled with Ennio Morricone's rousing score. Like all of his other work, Sergio Leone makes sure that the audience is aware he is the one overseeing The Good, The Bad, and The Ugly, as he not only cranks, zooms and whips the camera around sumptuously, but he tantalizingly teases his audience with his patient plotting too, before jolting them to attention with shocking violence.
Quentin Tarantino has long made it clear that The Good, The Bad And The Ugly is his favorite movie of all time, and its influence on his work is plastered throughout his career. Even byond the gore of Reservoir Dogs and Kill Bill, and the epic, surrealism of Inglorious Basterds, you can't ignore that he unashamedly made a love letter to Sergio Leone and his work with Django Unchained too. Naturally, we're beyond excited to see what more he has to add to the western genre as well with the release of The Hateful Eight later this year.
Your Daily Blend of Entertainment News