Here's How Much Quentin Tarantino Hates The Major Studios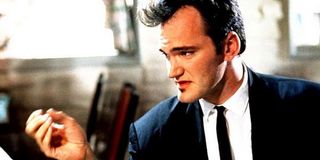 Quentin Tarantino has always had it out for those who could be seen as unimaginative and monetarily driven in Hollywood. Additionally, there's very few people who can tell Tarantino what he can and can't do. Judging by his decision to freeze out major studios on bidding for distribution rights to his upcoming film, The Hateful Eight, it looks like we might get the most maverick work out of the auteur in quite a while.
The Hollywood Reporter has confirmed that distribution of the film, produced by The Weinstein Company, is being shopped around strictly to independent studios. For those of you keeping score, Quentin Tarantino's last two films, Inglorious Basterds and Django Unchained, were distributed by Universal and Sony, with The Weinstein Company producing. So why, at this point in his career, would Tarantino seemingly throw shade towards the big studios?
One reason might be that The Hateful Eight seems to be a film that sits extremely close to his heart, especially considering he at one point considered canceling the film after a script leak of massive proportions had occurred. Another reason might be that the film's $44 million price tag is a budget that really doesn't require a massive studio presence to push it into the world, so why invite the pressures of working with a big studio if your film is only going to be a claustrophobic character study?
Or perhaps, tying back to the theme of privacy, Quentin Tarantino knows how many people work on a big budget studio film, and as such he wants to work with a limited stream of personnel to keep his film a secret. After all, we are in a world where studio employees can leak anything from an Avengers teaser trailer, to a full Sylvester Stallone film, at any point in the process. If this is true, you can't blame the man for wanting his privacy, especially considering how it was already violated in the past.
Does Quentin Tarantino hate the major studios? To a certain extent, he probably does. He might not have personal grudges with executives, but you can bet that he hates some of (if not most of) the product that comes out of a major studio's release slate. Is he purposely freezing those studios out of the process due to spite? Probably not, unless you count the factors mentioned above as spite. At the end of the day, The Hateful Eight isn't that big of an affair, and Tarantino probably just wants to keep things on the light end, so as to be able to move quick and mean like all of the grindhouse/exploitation films he looks up to.
All we can say is if The Hateful Eight lives up to its pedigree, as well as its director's own legacy, its release sometime next year is going to feel like Christmas for some lucky indie studio and Tax Day for some major studio that's left to think, "That could have been me."
CinemaBlend's James Bond (expert). Also versed in Large Scale Aggressors, time travel, and Guillermo del Toro. He fights for The User.