The 21 Jump Street Franchise Needs To Find Someone New To Take Over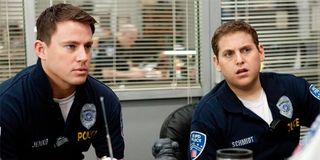 Phil Lord and Christopher Miller are currently in demand. And that should be no surprised to anyone. Not only have they launched three hugely successful franchises in the shape of Cloudy With A Chance Of Meatballs, 21 Jump Street and The Lego Movie, but they've also been heavily linked to a plethora of different film series, too. Because of their huge workload, it was always likely that one franchise would have to suffer the ignominy of their loss. And it's now been revealed that Jump Street is that franchise, as the pair won't be writing or directing, instead just executive-producing the announced 23 Jump Street.
Slash Film were the first to reveal the pair's decision. Chris Miller made the announcement while at the Television Critics Association's summer press tour to promote The Last Man On Earth. Miller explained:
And while it's a tad disappointing to hear that Miller and Lord won't be continuing their sterling work with a franchise that they almost double-handedly molded into a hugely popular and profitable pair of films, it's also completely understandable. Even with 22 Jump Street, which was still preposterously entertaining and funny, you could sense that the pair were treading over similar ground to the original.
With Miller and Lord working in an executive producer capacity on the series, they'll still be able to inject it with their sensibilities, while at the same time giving room for a new voice and style to flourish.
Plus, when you look at how much work the pair have got going on at the moment, it's no surprise that they've had to take a rest. Not only are they producing The Lego Batman Movie, Lego Ninjago, and now 23 Jump Street, but they're also writing and producing The Lego Movie Sequel, writing The Flash and an untitled animated Spider-Man film, as well as directing a Han Solo Star Wars film too.
In fact, when he was asked during the same interview about these exciting new projects, Chris Miller gave away a plethora of information including who is going to play a younger version of Han Solo, who the villain in The Flash will be, and revealed if Tom Holland will voice the animated Spider-Man.
I kid. He obviously said absolutely nothing, instead answering when questioned about them, "I'm not really allowed to talk about these projects." We have to wait a few years for Miller and Lord to actually finish their work before we can see them. But between 2017 and 2018, seven films with their imprint will hit cinemas. After which, we'll probably be sick of them. Again, kidding.
Your Daily Blend of Entertainment News
Thank you for signing up to CinemaBlend. You will receive a verification email shortly.
There was a problem. Please refresh the page and try again.