What The LEGO Movie 2 Will Be About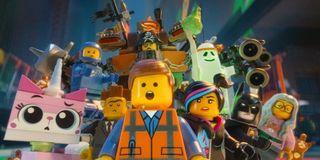 The surprising success of The LEGO Movie last February meant that a sequel to the much-loved animated hit was always going to be green-lit. The LEGO Movie 2 is due to be released in three years time, and now Phil Lord and Chris Miller have teased further details regarding what the film will actually entail.
The duo, who co-wrote and directed the 2014 original, teased to Empire Magazine that The LEGO Movie 2 will see a continuation of the live-action element present in the first movie, and revolve around how growing up into the pre-teen years changes a kid's perspective on toys. Said Chris Miller,
Meanwhile, this four-year gap would also give the follow-up the opportunity to place the likes of Emmett Brickowski, Wyldstyle, Batman, Metal Beard, and Benny in different circumstances than where we last saw them in the first movie. And while Miller didn't mention them specifically, hopefully some more of these characters will pop up during the adventure too...
But if Abraham Lincoln, the Statue of Liberty, Superman and Wonder Woman can't star, then I'd just be happy if The LEGO Movie 2 can extend the original's superb Star Wars homage - since the scene below was arguably the funniest movie moment of the year:
At this point I would trust anything that came out of Phil Lord and Chris Miller's minds. The writer/director team have been heavily involved in three of the most successful movie franchises of the last five years, in the shape of Cloudy with a Chance of Meatballs, 21 Jump Street and The LEGO Movie. And while it's disappointing that the pair are only writing The LEGO Movie 2 rather than directing it too, the fact that they are heavily involved in the construction of the film is enough to suggest their voice will still be prominent.
The LEGO Movie 2 will be preceded by 2016's Lego Ninjago and 2017's Lego Batman, as Warner Bros. look to turn the construction toy into a bona-fide cinematic franchise. Certainly Warner Bros. is confident that each of these installments will add considerably to the first movie in the franchise's box office total of $468.1 million. That being said, it's extremely unlikely that they'll be able to replicate the musical genius that was Everything Is Awesome.
Your Daily Blend of Entertainment News