3 Crazy Celebrity Stories From One Of America's Leading Interviewers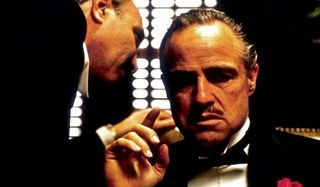 There's an art to interviewing celebrities. When to push harder. When to let them retreat. When to let them ramble. When to interrupt. No one knows that better than Larry Grobel. Over the course of his career, he's written for Playboy, Rolling Stone, Entertainment Weekly, The New York Times and dozens of other publications, coaxing secrets out of some of the more famous men and women in the world.
He's written bestselling books (opens in new tab) on Truman Capote (opens in new tab), Marlon Brando (opens in new tab) and many others. He's also sat down with damn near every single celebrity you could think of. From former First Lady Nancy Reagan to ex-Indiana University coach Bob Knight to Jesse Ventura, he's poked and prodded the most fascinating people in the world for decades.
Recently, he was kind enough to talk with CINEMABLEND ahead of his upcoming Book Soup appearance and share some of the crazier moments from his long career. From walking out of interviews to befriending celebrities to witnessing breakdowns, he has a story on almost any subject. When you deal with eccentrics and the professionally insane for a living, you very rarely punch in and punch out without fanfare. So, we've gone ahead and compiled 3 of the most interesting stories he told us.
That Time He Stared At Marlon Brando In Silence
It's been more than a decade since Marlon Brando passed, and it's been many many decades since the ferocious actor was at the height of his powers. These days, people forget what an intimidating force he was, but even during the late 1970s when Grobel spent ten days with the actor on his private island, he was a stubborn, almost unmovable force of nature. Early on in the first of many sessions, Brando rambled about the power of silence before saying…
The two men stared at each other in silence. Fifteen or twenty minutes passed without a word. Grobel thought about bailing, about heading back home and telling Playboy Brando refused to talk, or more accurately, that he refused to back down. Mercifully, the actor eventually stood up, said, "Well, that was refreshing, let's go eat." They started recording the next day.
That Time Cher Found Out Her Make A Wish Kid Died
Sitting for an interview is work. Whether promoting a movie, a cause or simply promoting one's own brand, the subject always goes in with some kind of agenda, but now and again, real life can get in the way. As Grobel was sitting across from Cher in her TV dressing room, waiting to begin an interview, she received a phone call, and within moments, she was crying. A lot. Apparently, a kid from the Make A Wish Program had asked to see her. She scheduled an appointment for a few days later, and the poor kid died before she was able to get to the hospital. Amidst her tears, the interviewer was forced to make a decision…
So, he asked her if she wanted to reschedule. She said yes and was so relieved, she invited him out to her house for an extended conversation that was better, longer and more honest than anything he could have expected.
That Time He Flew A Plane With Kurt Russell
The thing about celebrities is they're rarely excited about what they're actually famous for. Sometimes actors are excited about music. Sometimes they're excited about creating invisible art. When Larry Grobel sat down with Kurt Russell, he was excited about getting his pilot's license. So, the two men piled into a plane and headed into the clouds, where Russell promptly turned over controls to Grobel.
That's the thing about interviews. The trick is to just go with it because the more comfortable you act, the more comfortable they'll be to answer whatever questions you might have. It's all about trust, and few things require more trust than flying a plane.
Enthusiastic about Clue, case-of-the-week mysteries, the NBA and cookies at Disney World. Less enthusiastic about the pricing structure of cable, loud noises and Tuesdays.
Your Daily Blend of Entertainment News
Thank you for signing up to CinemaBlend. You will receive a verification email shortly.
There was a problem. Please refresh the page and try again.