To 3D Or Not To 3D: Buy The Right Epic Ticket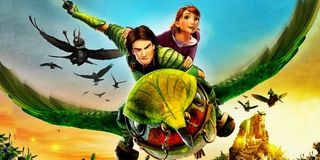 During the summer blockbuster season it seems like every movie gets the 3D treatment, whether it deserves it or not. Sure, you can argue that the visual spectacle of Iron Man 3 or Star Trek Into Darkness earned the right to charge more for a 3D ticket. The Great Gatsby, on the other hand, might have been a bit of a stretch. And Fast 6, I'd argue, could have used the extra 3D kick. At least that screenings in IMAX, where available.
The next 3D feature we have this season, though, is Epic, an animated adventure from Ice Age director Chris Wedge that hopes to plunge audience members into a miniaturized forest setting for a story that's loosely derived from William Joyce's story of the Leafmen. In the past, 3D and animation have gone hand-in-hand. Is that the case with Epic? Let's put our glasses on and explore.
Does 3D Fit?
Yes. The bulk of Epic takes place in a forest setting once the main character, M.K. (Amanda Seyfried), is shrunk to the size of thumb and cast out on a gigantic mission to protect an endangered section of forest. As he did in Ice Age and Robots, Wedge concocts sweeping, fluid action sequences involving creatures we don't normally see on screen: Bats; hummingbirds; snails; and a slobbering, three-legged dog. Wedge sets his action against a lush, gorgeous landscape of natural photography that pops off the screen in 3D. For the story being told, the 3D fits like a glove.
Planning & Effort
Again, the scenes with M.K. and the Leafmen are constructed to take advantage of the 3D. The pint-sized warriors have a natural enemy in Mandrake (Christoph Waltz), a boggan who'd like to infect the forest once Queen Tara (Beyonce) has been removed. Their conflicts swoop and dive around the forest, concluding with a thrilling confrontation with countless bats trying to block out the moonlight. Wedge pans around his action with admirable fluidity (as he did in the underrated Robots), and I think that Epic will lose a bit of its epicness – pardon the pun – if you watch these action sequences in 2D.
Before the Window
There's a lot more of the Before The Window 3D in Epic than I expected - which also speaks to Wedge's Planning & Effort. Hummingbird beaks, bird wings, snail eyeballs, Leafman swords and dangling tree branches are just a few of the things I recall jutting out at audiences during Epic. But nothing made me jump in my chair quite as much as the spear thrown off the screen in Star Trek Into Darkness. That remains the best "Before the Window" trick in this early summer season. But there are some cool tricks tantalizing audiences in Epic.
Beyond the Window
The nature shots in Epic -- and there are lots of them – benefit the most from some exquisite planning and execution beyond the window. There's a rich world to explore when M.K. joins the Leafmen in avenging Queen Tara. But right from the opening scenes of the film, which are quiet stills of a vibrant forest, the depth of focus pulls you into Wedge's lush world. During a ceremony for Queen Tara to choose her natural heir, pond water and leaves act as actual characters. And the detail found in Professor Bomba's office in a later scene will keep parents busy as they scour the backgrounds for subtle jokes. There's a lot going on in the background for Epic, if you stop and pay close attention.
Brightness
Accounting for the dimness of the 3D glasses, Wedge stages most of his Epic action in broad daylight. At least in the movie's first half. Queen Tara's ceremony and M.K.'s first adventures in the Leafmen's world take place in natural daylight, allowing Wedge to flood his scenes with radiant glow that help the visuals pop. Later we detour into the cavernous headquarters of a caterpillar named Nim Galuu (Steven Tyler) and into the Boggans' lair … both of which are darker than I'd hoped. And by design, the story concludes in the moonlight, which is thrilling and mysterious – but does cut down on the overall brightness. Epic can never be described as muddy, but it stops popping (from a brightness perspective) in the second half.
The Glasses Off Test
There is plenty of blur around the edges of Epic's animation when you take your glasses off during 95% of the film. Because there are so many fast-paced action sequences in Wedge's film, there are ample 3D effects applied to almost every scene, so the blur seen with your glasses off suggests that Epic passes the "Glasses-Off" test with flying colors. Now, leave your glasses on!
Audience Health
This is what I love about Wedge: When he stages an action sequence, he understands how to move his "cameras" with the fluid movement of the protagonists. We don't suffer through choppy edits that can come with live-action editing. Even though we're often diving and flying through the air as Epic races along, you will not feel seasick thanks to the 3D.
Swipe to scroll horizontally
SCORES RECAP
3D Fit
4
P&E
4
Before The Window
3
Beyond The Window
4
Brightness
3
The Glasses Off Test
4
Audience Health
4
Total Score
26 (out of a possible 35)
Final Verdict: As we often point out in the To 3D column, the visual gimmick works very well in the animation genre … and Epic doesn't break that streak. While it might not think as far Beyond the Window as Wreck-It Ralph or the best of Pixar's output, it does more than enough during its imaginative action sequences to justify going the extra monetary mile and paying for 3D tickets if you are checking the movie out in theaters.
This poll is no longer available.
Your Daily Blend of Entertainment News
Sean O'Connell is a journalist and CinemaBlend's Managing Editor. He's frequently found on Twitter at @Sean_OConnell. ReelBlend cohost. A movie junkie who's Infatuated with comic-book films. Helped get the Snyder Cut released, then wrote a book about it.
Your Daily Blend of Entertainment News
Thank you for signing up to CinemaBlend. You will receive a verification email shortly.
There was a problem. Please refresh the page and try again.