To 3D Or Not To 3D: Buy The Right Pan Ticket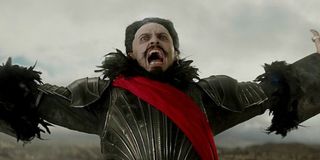 Peter Pan has a long cinematic legacy dating back all the way to the 1920s, when director Herbert Brenon first brought J.M. Barrie's beloved protagonist to the big screen. Since then, we've seen many, many more adaptations in all kinds of forms – from live-action versions to cartoons to TV specials. Now the fairy tale hero is coming back to the big screen thanks to director Joe Wright's new film Pan - and what separates this version from every other one we've seen is that this is the first one to be made in 3D.
As we do with every newly released 3D film, we've broken down the experience watching Pan into multiple categories to determine exactly the best way to see the movie on the big screen. To 3D or not to 3D, that is the question! So read on for the answer…
Fit Score
5/5
History has shown us that 3D really works best when it A) opens up exciting new worlds that can be explored with depth, and B) features a good deal of action that will maximize the space. Joe Wright's Pan most certainly fits into both of these criteria, and gets a perfect category score for it. If a filmmaker is going to be bringing the fantastical tale of Peter Pan back to the big screen, it makes plenty of sense to develop it as a giant spectacle and give it every opportunity to really pop.
Planning & Effort Score
5/5
Joe Wright made the decision to film Pan in 2D and convert the film during post-production (a process that has come a long way since the Clash of the Titans days), but the project was always planned to be a 3D adventure. In storyboarding, production design, and crafting mise en scene, the director kept the added dimension in mind throughout filming, and made concentrated efforts to enhance the special theatrical experience. It's true that some films fans still look down on non-native 3D, but Pan does deserve full credit in the planning and effort department.
Before the Window Score
3/5
With James Cameron initially working hard to focus audience's attention on the depth aspects of 3D, the Before The Window aspect was somewhat pushed aside by Hollywood as being too gimmicky. As gimmicky as it may be, however, it's also certainly the more entertaining aspect of the extra-dimensional experience, and Joe Wright and his team do a solid job utilizing it in Pan. It doesn't happen all that often, but the director does use occasion to have movie-goers share space with stars, dropping bombs, and more. When the film uses this aspect of 3D, it works well – but you're left wanting just a bit more of it.
Beyond the Window Score
3/5
Given the work that was put into the 3D, I wish I could say that Pan is a beautifully immersive experience, but the truth is that I was never really overwhelmed by it. There are surely plenty of moments crafted to make use of the technology, including airplane chases, rope swings, and even a couple musical numbers, but it never exactly delivers the full feeling that you're looking into another world or that you're going to fall into it. It's not "cardboard cutouts" bad, but it isn't super impressive either.
Brightness Score
4/5
Surely there will come a day when Hollywood technological wizards figure out a way to generate a 3D experience that doesn't require the use of special lenses – but until that day comes filmmakers will just have to continue compensating when it comes to brightness in their movies. Joe Wright has great success with Pan in this department, and it most certainly helps that most of the action is set during daytime and that there is a very vivid color pallet in operation. Things do get a bit muddied and greyed in the film's darker scenes, but for the most part it isn't one of Pan's greater issues.
Glasses Off Score
3/5
Want to see exactly how much 3D your buck is getting you while you're in the midst of watching a film? Acquiring the answer is as simple as lowering your 3D glasses on the bridge of your nose and peeking over the frames. Viewing the movie this way, without using lenses to adjust the stereoscopic image, reveals the artificially created layers that create the extra-dimensional experience – and as a rule of thumb, the harder the screen is to watch, the stronger the 3D. With Pan, my experience in this area was a mixed bag. Certain scenes – particular long shots or action sequences – did have a great deal of blurriness, but there were other moments in the film that I had zero issue watching with my glasses off.
Audience Health Score
5/5
Bad 3D can leave members of the audience feeling nauseous, motion sick, or headachy, and while some people are just more sensitive than others, the truth is that filmmakers can take steps to make their movies more comfortable to sit through. This primarily includes creating focal points with the technology that prevent eyes from wandering and making movie-goers ill. I'm happy to report that I walked out of my Pan screening feeling 100% fine.
3D SCORES RECAP
3D Fit
5
P & E
5
Before The Window
3
Beyond The Window
3
Brightness
4
Glasses Off Test
3
Audience Health
5
Total Score
28/35
Final Verdict: At the end of the day, Pan is really a "take it or leave it" film when it comes to 3D. There certainly are sequences that really pop thanks to the added dimension, and the filmmakers certainly crafted the movie for the special theatrical experience, but I also can't say that I walked away from it being all that impressed by what it has to offer. A B- is an appropriate grade here – which basically means that if you don't want to pay the extra money for a ticket, it's not the worst mistake you can make.
This poll is no longer available.
Click to visit our full To 3D Or Not To 3D Archive.
Assistant Managing Editor
NJ native who calls LA home and lives in a Dreamatorium. A decade-plus CinemaBlend veteran who is endlessly enthusiastic about the career he's dreamt of since seventh grade.
Your Daily Blend of Entertainment News
Thank you for signing up to CinemaBlend. You will receive a verification email shortly.
There was a problem. Please refresh the page and try again.