5 Amazing Things We Learned About Kevin Costner On The Set Of Jack Ryan: Shadow Recruit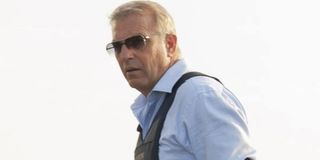 Since making his debut on the big screen in the 1980s, Kevin Costner has become one of the most iconic screen presences of the modern era. Thanks to his work in both Field of Dreams and Bull Durham he is the first actor many think of whenever the topic of baseball movies comes up, and roles in movies like The Untouchables, Dances With Wolves and JFK will be remembered forever. He has spent decades on the roller coaster that is Hollywood, and it was fascinating to listen to him talk about all of it while on the set of Jack Ryan: Shadow Recruit back in late 2012.
While the actor actually wasn't even supposed to be on set the day we cane to watch some of Jack Ryan's production in London, he took a special trip to join us for a roundtable discussion that wound up lasting more than 35 minutes. During the conversation he spoke not only about his latest project, but his career as a whole. He was full of surprising and revealing commentary about the industry and why he does what he does, and I've plucked out the five most fascinating parts below.
He Almost Played Jack Ryan In The Hunt For Red October
In Jack Ryan: Shadow Recruit Costner stars as William Harper, a character that is being introduced to the Tom Clancy universe through the film. Harper is a veteran at the CIA and when the titular hero is sent to Moscow as an analyst Harper serves as both his handler and his mentor. It's an important supporting role, but the truth is that 24 years ago it was actually almost Costner who was playing the eponymous lead in the franchise.
According to the star, back in the late 80s when John McTiernan's The Hunt For Red October was first being developed as a feature he had actually been approached to star as Jack Ryan. While it would have been a big role for him even at the time, he ended up walking away from the offer so that he could focus on a certain passion project.
"I couldn't do it because I had already postponed Dances With Wolves for one year, and now I had a chance to do Red October but I had already assembled this crew and I'd put my money into it. Then they offer me really a lot of money – more than I had ever seen – to do Hunt For Red October, and I said, 'You know, 'No' doesn't mean more, it's just no."
The story ends with a happy ending for both sides. Alec Baldwin took the part in Red October and put on a critically-acclaimed performance, while Dances With Wolves went on to win Costner both a Best Director and Best Picture Academy Award. After that, the role never came up again. "I went off and [made Dances With Wolves], and then never caught back up with the thing. It seemed like different people played Jack Ryan or something like that. I think Jack Ryan passed me."
What Draws Him To The Western Genre
Those who have closely followed Costner's four-decade spanning career know that he has always had a particular affinity for the Western genre. Beginning with Lawrence Kasdan's 1985 movie Silverado, Costner has been in and/or directed four major Western films – including 1990's Dances With Wolves, 1994's Wyatt Earp and 2003's Open Range - and recently starred in the old west-set mini-series Hatfields & McCoys. So what is the big appeal? "I like to visit it because when they're done right, I think they're really beautiful pieces of film," he told us during our interview. "They highlight how difficult it was for your ancestors who found their way to America to make a life for themselves."
As rough and tumble as things were back then, however, it's not the blood-spilling or the gunplay that make Costner interested in the genre. Rather, it's the strength of character that was needed in order to face down such a harsh world. It's something that he believes that we don't think as much about today surrounded by modern comforts, and that it regularly comes as a surprise when it's portrayed on the big screen.
"Their stories are of people who made their way out west, had to wait for seven, eight days for just the buffalo to pass in front of them," Costner said. "They were afraid, so the wagon train just waited. You don't conceive of that, you can't conceive of that - and that's real. If you make a really good western, it's not just about the shootout, it's not. It's about, 'how did I get in such a bad spot here? How did it come down to me against these guys?' If you do it thoughtfully, it's our Shakespeare. If you do it crappy, it sets the genre back."
He Wants To Get Back To Material That He's Developing Himself
Kevin Costner has been acting in Hollywood for nearly three full decades now, but he is far from a one-dimensional star. In addition to being a leading man, he has also been working as both a producer and a director since 1990, not keeping his presence limited to being in front of the cameras. A big advantage of this is that it helps him get closer to making movies the way that he really wants to make them, and it's that reason why at this point in his career the projects that interest him most are the ones that he is developing for himself.
A big part of that want is what he describes as his own "anal" approach. Said Costner, "I don't start a movie until the script is done and completed, I don't leave room for pages to start changing, for studios to start sliding notes under the door, whatever, I really like to know what I'm doing." For the actor/director/producer one of the most important aspects of the filmmaking process is the rehearsal period when a performer can really get everything planned out and a character straight in their head. Unfortunately the studio system has cut down on that a great deal in recent years.
Said Costner, "I like to rehearse, and so even the movies that I do I carve out almost a week and a half to two weeks for rehearsal, which is really not part of the budgets anymore these days. But I like my actors to do that because I don't like to rehearse on the day, because I think all that is a blocking to me, I really like them to be comfortable, and I like to put them under pressure early so that when the day comes they're more at ease… People do not value that process anymore."
He's Not Done Playing A Leading Man
Kevin Costner has been a leading man for almost his entire career, but everyone knows that Hollywood is an age-biased industry. As a result, in more recent years the actor has been taking on more supporting roles, featured but not starring in films like Zack Snyder's Man of Steel, John Wells' The Company Men and even Jack Ryan: Shadow Recruit. But it's a role that he has found that he has eased in to.
"it's nice to have days off, to see the sun come out!" Costner said, referring to the fact that as he arrived to our interview the sun had finally broken through the clouds in the London Sky. "I'm not afraid to play a supporting part, I don't feel like that diminishes me, I don't feel like 'Oh, that's a sign of the times now,' you know what I mean?"
At the same time, though, he's not yet ready to give up his time in the spotlight either. Costner remarked that as an actor he likes to take people through a story, and that's exactly what a protagonist does. Plus, he thinks he can still realistically play up that romantic sub-plot. "I still get the girl! If it's written!" he said laughing.
Why He's Never Done Any Sequels
Hollywood absolutely loves to build giant franchises out of any successful property that they can get their hands on, but that's a game that Costner has never played. Despite a number of huge successes on his resume, the actor has always stayed away from sequels, instead choosing to move on to other more original projects. But that doesn't mean there weren't offers on the table and that there weren't circumstances in which he would have been willing to take on a part two.
"On The Bodyguard. I was going to make [a sequel] for a moment," Costner told us. "Princess Diana was being really considered for that part. You know, people have asked me to make Tin Cup, Bull Durham, Dances, you know those things. I was just always interested in what I could do next."
The reason Costner has regularly turned these projects down, again, goes back to the screenplays. The actor told us that he would have been happy to take on any of those projects if they had a solid script in place, but that wasn't the case. In fact, one of the reasons he has stayed away from sequels is because the original writers weren't sticking around. Said the actor, "For me the guys writing those are one-off guys too. Lawrence Kasdan, Ron Shelton, they move on in their lives. They're very individual. It's clearly the smart move to create something like this or that. I get that it's a very good career move to do that."
What does that mean for the future of the Jack Ryan franchise? We'll just have to wait and find out.
Your Daily Blend of Entertainment News
Assistant Managing Editor
NJ native who calls LA home and lives in a Dreamatorium. A decade-plus CinemaBlend veteran who is endlessly enthusiastic about the career he's dreamt of since seventh grade.
Your Daily Blend of Entertainment News
Thank you for signing up to CinemaBlend. You will receive a verification email shortly.
There was a problem. Please refresh the page and try again.