5 Guardians Of The Galaxy 2 Villains Matthew McConaughey Might Have Played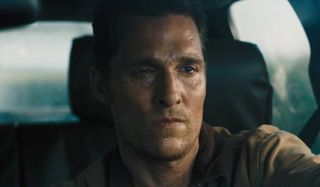 Although Guardians of the Galaxy Vol. 2 has announced many of the returning characters from the first movie, there has barely been any word about any of the new players. That changed yesterday when it was announced that unknown actress Pom Klementieff had been cast in a mysterious role, but there was another important news blurb that came from that. Apparently Interstellar star Matthew McConaughey was being looked at to play a baddie in the movie, but he turned down the role. Hmmm, curious.
If Marvel was pursuing McConaughey for a villainous role, that likely means he would have played the main antagonist. With shooting on Guardians of the Galaxy Vol. 2 is scheduled to begin early next year, there's still time for the studio to find someone to take the role.The question is, who is this antagonist that he might have played. While we'll no doubt learn in the coming weeks, for now here are the evildoers we think Marvel might have wanted him to breathe life into.
Thane
Thanos likes to get around, which means that Gamora and Nebula are only a few of his "children." In Thane's case, he is actually the biological child of Thanos and an Inhuman woman. Thane lived most of his life unaware of his father, but when Thanos came calling on Earth looking for Thane, the young man was corrupted by the Mad Titan's lieutenant Ebony Maw and manipulated into becoming something worse than Thanos. That seems like enough background to have Thane act as a proxy for Thanos in the MCU. Granted, Josh Brolin and Matthew McConaughey are almost the same age, but when it comes to aliens, there can be some leeway with the physical aging.
Thane's presence would also be a good way to foreshadow the Inhumans for the movie watching-only audience, i.e. those not watching Agents of S.H.I.E.L.D. Although their capital city Attilan has primarily stayed on Earth, it has gone out into the galaxy before. Perhaps at this point in the MCU, they've gone spaceborne and the Mad Titan came upon them in his travels, only instead of losing his son, he immediately took him and raised him to be a killer.
Korvac
Michael Korvac was a computer programmer from an alternate Earth who originally served the Badoon, but when he was caught sleeping at his station, they took the upper half of his body and grafted it to a machine, thus making him a cyborg. If that wasn't bad enough for him, Korvac was then transported back in time to be used as a pawn of the Grandmaster, but eventually he broke free and caused chaos on his own. He also gained energy manipulating powers during time, making him more dangerous than before.
The main problem with using Korvac is that he's a human, and as James Gunn has said on many occasions, Peter Quill is the only human (a.k.a. Terran) that he wants to feature in the sequel. However, as evidenced by John C. Reilly's Rhomann Dey and Glenn Close's Nova Prime, the movie universe is full of human-looking aliens, so it would be easy to alter his background while still incorporating his strange abilities. Obviously they'd also need to scrap the whole alternate Earths and time travel elements. Those are a bit too much for the MCU to handle right now.
Terrax
Terrax was originally known as Tyros, ruler of the planet Birj. As most dictators, he enjoyed using his power to torment others, but eventually he drew the attention of Galactus. The world-eater sought Terrax to be his new herald, a.k.a. the individual who would find planets for Galactus to devour. Terrax willingly took the new powers that came with title, but soon began to rebel against his master, and while Galactus was able to "muzzle" him for a little bit, eventually he decided that Terrax wasn't worth it, stripped him of his cosmic power and banished him to Earth. Now he's just a normal, super-powered threat.
Although he's primarily fought the Fantastic Four in the comics, he's also gone up against other cosmic heroes, so he could easily be sicced against the Guardians of the Galaxy. Since Galactus still belongs to 20th Century Fox with the rest of the Fantastic Four characters, Terrax would need to have his herald status revoked. Still, he's enough of a powerhouse that he could give the entire team a run for their money, although truthfully, we would especially like to see a brutal, no-holds barred brawl between him and Drax.
Peter Quill's Father
In the comics, Peter Quill's father is J'Son of Spartax, the Emperor of the Spartoi Empire. However, their different ideologies prevented them from sharing a good relationship, and J'Son has often found himself having to fighting his son and his teammates. James Gunn has already said that Peter's father will be someone different in the movies, but that doesn't mean he still can't cause his son enormous amounts amounts of trouble.
Again, there's that age difference issue to take into consideration, since McConaughey is only 10 years older than Chris Pratt. However, maybe alien genes do wonders with physical appearance, so whoever does end up playing the role (whether he's a villain or a standard supporting character), they can get away with casting someone a little younger. The big question is if this mystery man will be a monarch like in the comics or something bigger. Peter's mother called him an angel, and while Yondu later clarified that he was actually an asshole, perhaps this "angel" wields enormous power, resulting in Peter discovering what his father is truly like and being forced to stop him.
Adam Warlock (The Magus)
We've talked about Adam Warlock quite a few times in other features, but typically he's been presented as a protagonist for the MCU. However, what if Gunn and the Guardians of the Galaxy Vol. 2 creative team is going in a different direction for Warlock's first appearance? It's true, the normal Warlock is a good guy, but his alternate self The Magus is anything but. There have been three version of Magus. The first was Warlock from an alternate future who attempted to manipulate his younger self onto his path of evil. The second Magus was the evil half of the present day Warlock that had been expelled from Warlock's body after acquiring the Infinity Gauntlet, while the third was Warlock corrupted after repairing damage to the space-time continuum.
It stands to reason that if Adam Warlock is going to play a larger role in the MCU, he'll have to be redeemed before Guardians of the Galaxy Vol. 2 finishes. After all, if the Avengers: Infinity War movies are going to be following the original Infinity Gauntlet storyline closely, Warlock will need to help the heroes deal with Thanos. However, if Guardians of the Galaxy Vol. 2 shows Warlock awakening from his cocoon, perhaps he starts out as a bad guy, but by the end, he realizes the error of his ways and decides to be a force for good.
This poll is no longer available.
Connoisseur of Marvel, DC, Star Wars, John Wick, MonsterVerse and Doctor Who lore. He's aware he looks like Harry Potter and Clark Kent.
Your Daily Blend of Entertainment News
Thank you for signing up to CinemaBlend. You will receive a verification email shortly.
There was a problem. Please refresh the page and try again.