Guardians Of The Galaxy Vol. 2 Just Cast A Mysterious New Character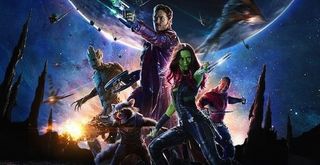 In 2014, after Marvel's deep space adventure Guardians of the Galaxy became an unexpectedly massive global hit, the follow up, Guardians of the Galaxy Vol 2, as is it now known, jumped to the top of many people's most anticipated lists. We know that the core cast will be back for more epic adventures, but the movie has now added the relatively unknown actress Pom Klementieff as an unknown character.
According to The Hollywood Reporter, Marvel went on an extensive search to fill a key slot in the cast, one that specifically calls for an Asian actress, and this quest led them to cast Klementieff in the mystery role.
The 29-year-old actress was born in Quebec, Canada, and though she has a handful of credits on her resume, most of them were in France, and she's not particularly well-known to mainstream or international audiences. To date, her highest profile role was a relatively small part in Spike Lee's remake of the Korean revenge thriller Oldboy. Interestingly enough, that film starred two other members of the Marvel Cinematic Universe, Josh Brolin, who plays the Mad Titan Thanos, and Elizabeth Olsen, who plays Scarlet Witch, a new member of The Avengers. Wonder if that had anything to do with the casting?
Maybe that helped Klementieff get a foot in the door, but Marvel's search reportedly did several rounds of auditions and "chemistry reads" to make sure that the actress was the right fit. Though there are no details yet, THR does describe it as "key," and if they went to such great lengths to make sure she was the right choice, it stands to reason that, whatever this role is, it's pretty important. Klementieff also has boxing and taekwondo skills in her bag of tricks, so hopefully she'll have ample opportunity to get in there and mix it up.
All of the key players from Guardians of the Galaxy are coming back for Vol 2. This includes writer and director James Gunn, as well as the main actors that comprise the title group of space rogues, Chris Pratt (Star-Lord/Peter Quill), Zoe Saldana (Gamora), Dave Bautista (Drax the Destroyer), Bradley Cooper (Rocket Raccoon), and Vin Diesel (Groot). Karen Gillan will also be back as the villainous Nebula, and Michael Rooker will return as Yondu. As the original went on to gross a tidy sum of $774 million worldwide, expectations are through the roof for the follow up. If nothing else, it should have a kick ass soundtrack.
Guardians of the Galaxy Vol 2 is slated to begin production early in 2016 and is scheduled for release on May 5, 2017.
Your Daily Blend of Entertainment News
Thank you for signing up to CinemaBlend. You will receive a verification email shortly.
There was a problem. Please refresh the page and try again.