7 Animated TV Shows That Would Actually Make Great Live Action Movies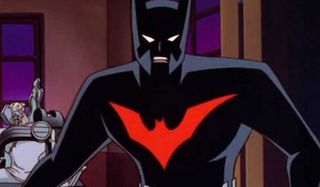 To put it bluntly, Jem and the Holograms did not work as a movie. Not only was the film taken apart by critics, but it also epically failed at the box office – managing to land 15th place on the domestic box office chart. But just because that animated series didn't take off in live-action doesn't mean that it's impossible that others can't – and there are actually a number of shows that could actually still work after a change in medium.
There are certainly many cartoons from television history that would not work for movies – either because of their stories or style – but we've looked back and collected a list of titles that actually could survive the transition (after being put in the proper filmmaking hands, of course). So which ones did we pick? Read on to find out!
Batman Beyond
These days we're seeing every kind of superhero story adapted for the big screen, but one area ripe with potential and yet to be explored are the comics that depict a futuristic Earth where the age of heroes live on. If DC Comics wants to get to this type of title before Marvel can launch 2099, there exists a perfect opportunity with the flashy series Batman Beyond. Centering on an older Bruce Wayne training his successor as Batman in a neon-fueled vision of Gotham City, a live-action translation of the show could be a terrific way to either eventually continue the legacy of Ben Affleck's version of the Dark Knight a few years down the line, or possibly just reboot the franchise post-DC Cinematic Universe without having to do over all of the elements we've seen a number of times already.
Daria
Not only is Daria a show that would work supremely well in live-action, now really is the time to actually get it done. After all, there's only so much time left that Aubrey Plaza has to convincingly play a high schooler. Even if that window closes, however, it's still a project that a proper filmmaker could do a lot with. The animation style was never the most highlighted element of the MTV series, but what was celebrated was the show's honest portrayal of high school life and its sardonic wit – both things that obviously can be easily translated through mediums. The series officially came to an end in 2002, but its content feels as fresh as ever, and it's a property that could actually work quite well with physically real actors and sets.
The Venture Bros.
The Venture Bros. is a series that is very much rooted in the animated world - what with primarily being a comedic re-imagining of Jonny Quest, but it's really the scope and scale of the story that would make it great fodder for adaptation into live-action. The show does a really fantastic job of turning the super scientist/supervillain relationship and turning it on its ear, and in an age of comic book movies it could feel tremendously refreshing – particularly in its treatment of the henchmen working for the aforementioned supervillains. I would hope that a film could find some way of letting Patrick Warburton take on the role of the indestructible Brock Sampson himself, but it could really be an amazing part for any comedic, buff actor.
Invader Zim
The angular artwork is certainly one of the greatest elements of Jhonen Vasquez's series Invader Zim, but there is still a part of me that would love to see this world adapted for live action. There would certainly be a specific challenge that would come with making the strange character designs work, but this dark, weird bit of science-fiction could result in a disturbingly funny feature about an incompetent alien's attempt to take over Earth, and the workings of the paranoid, neurotic little boy who sees himself as the only one who can stand in the way. Perhaps Vasquez would be interested in making the project his first venture into the movie world – though my only request would be that Richard Steven Horvitz and Rosearik Rikki Simons reprise their roles as the voices of Zim and the robotic GIR, respectively.
The Tick
It's already been proven that The Tick works exceptionally well in live-action (thank you again, Patrick Warburton!), but while that short-lived show didn't entirely capture the same exact absurdist nature/energy of the '90s animated series, one could easily see it packaged into a feature length story. Like the cartoon, the movie can be kept more on the kid-friendly side than the original comics by Ben Edlund, but at the same time serve as a wonderful deconstruction of all the tremendously popular superhero blockbusters that are currently making their way to theaters. Audiences have constantly voted for properties that can effectively offer both big laughs and big action in the same package (just look at all of the success Marvel Studios has been having), and that's something that would be guaranteed from The Tick.
Masters of the Universe
This one is kind of cheating, as there is actually a Masters of the Universe movie currently making its way through development (not to mention one that was already made back in 1987), but let's just call this section affirmation that there actually does exist some potential in the idea of bringing the toy-centric cartoon to life on the big screen. There is truth in saying that there really isn't any property out there that mixes large scale fantasy and sci-fi quite in the way that we see done with He-Man, and put in the right hands it could really pop. I would personally love a filmmaker to take a semi-21 Jump Street route with it, and slyly make fun of it while also respecting the franchise, but even if it does become another summer blockbuster-style feature it could offer audiences a lot of fun at the theater.
Futurama
There perhaps was a time 10 years ago or so when I might have been on-board for the idea of a live-action version of The Simpsons… but that time has passed. I can't say the same for Futurama, however, as one could see the creatives behind the show – specifically Matt Groening and David X. Cohen – having some fun with it. Not only could the change in mediums be explained by a Professor Farnsworth experiment gone wrong, thus making the style change an interesting part of the canon, but I would honestly just love to see how the character designs and the style of the world would be translated… not to mention how they would go about explaining why the characters have changing voices (unless the entire thing would up being dubbed).
NJ native who calls LA home; lives in a Dreamatorium. A decade-plus CinemaBlend veteran; endlessly enthusiastic about the career he's dreamt of since seventh grade.
Your Daily Blend of Entertainment News
Thank you for signing up to CinemaBlend. You will receive a verification email shortly.
There was a problem. Please refresh the page and try again.