The Masters Of The Universe Remake Just Took A Big Step Forward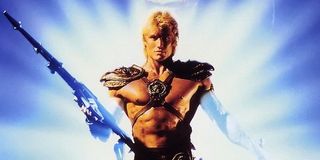 If you've been waiting with bated breath for a new Masters of the Universe to hit the big screen, today arrives with some good news for you, as the long-in-the-works update of the classic animated series just took a big step forward. They hired screenwriter Christopher Yost to help bring He-Man back to movie theaters everywhere.
Variety reports that Sony Pictures and Escape Artist have hired Yost to pen their reboot of Masters of the Universe that has been in the works for what feels like forever. This move makes sense, as Yost has a wealth of experience writing for beefy blond heroes who have a penchant flexing their biceps and wielding medieval weapons. Yost has lent his quill to multiple Thor movies for Marvel, providing a layer of polish to Thor: The Dark World in 2013, as well as penning the upcoming Thor: Ragnarok with Craig Kyle, which is slated to drop in 2017.
He-Man hasn't been seen on the big screen for almost 30 years, not since the Cannon Films-produced disaster Masters of the Universe in 1987 (cards on the table, I have a deep-seated love for that movie, but I won't go so far as to claim it is great art). Starring Dolph Lundgren as He-Man, and Frank Langella as his nemesis Skeletor, it also features an early turn from Courtney Cox. Along with Superman IV: The Quest for Peace, the failure of this film is largely responsible for the demise of Cannon, and Lundgren has gone on record as saying this is his least favorite film role.
As for the plot of the reboot, there isn't a ton available, but from what we do know, it appears that it follows the standard He-Man blueprint. Set on the world of Eternia, the story revolves around Prince Adam, who has the ability to transform into the gallant warrior He-Man, hopefully still by raising his sword and hollering, "I have the power!" They also better bring Battle Cat, He-Man's trusty feline steed, along for the ride, and I'll be bummed if they leave out characters like Man-at-Arms and Teela. He-Man will, as you might expect, once again tangle with his nemesis Skeletor, but that's to be expected; that dude is a total dick and always up to no good. He-Man will apparently attempt to conquer Castle Grayskull in order to find out what mysteries it keeps locked inside.
There's no word on when Masters of the Universe might get rolling, but given this project's track record, I expect it to fully come off the rails before it ever gets close to the theaters. But maybe I'm just being cynical.
Your Daily Blend of Entertainment News
Thank you for signing up to CinemaBlend. You will receive a verification email shortly.
There was a problem. Please refresh the page and try again.