7 Marvelous Facts Captain America's Directors Think You Need To Know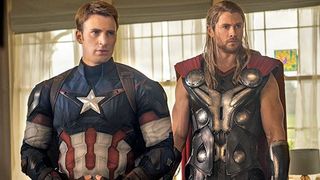 Captain America: The Winter Soldier directors Joe and Anthony Russo are allowing themselves a victory lap. It won't last long. Soon, the siblings will have to plunge head first into pre-production on Captain America 3, as the sequel is due to hit theaters in May 2016. But before that, the brothers hopped on the phone with us to celebrate The Winter Soldier now that it's reaching Blu-ray and DVD.
With good reason. The second Cap film continued Marvel's white-hot streak of quality entertainment. And it banked enough cash ($259.7M) to become the highest-grossing domestic feature of 2014… a distinction it's likely to relent to Marvel's own Guardians of the Galaxy. Needless to say, we had a lot to talk about with the Russos, from Captain America: The Winter Soldier to Marvel's plans for Captain America 3 and beyond. Starting with…
They know the title of Captain America 3, and will tell us what it is very soon.
But not during my interview. Which is frustrating. Understandable. But still, beyond frustrating. The title came up in conversation because we were discussing the ways the directors used Scarlett Johansson's Black Widow in Captain America: The Winter Soldier. She isn't a sidekick. She's an integral character, carrying over from The Avengers and establishing herself in Cap's world. We talked about plans to have Jeremy Renner's Hawkeye in The Winter Soldier, and their desire to have more heroes in Cap 3.
"I think when people learn the title of Cap 3, they'll understand that Marvel is continuing to take really big swings," Joe Russo told me. "[That title] is coming soon. Shortly. Very, very soon."
The success of Guardians should allow Cap 3 to get a little strange.
Captain America: The Winter Soldier earned several raves for its ability to stay grounded, to mirror the socio-political dramas of the 1970s. But the smash-hit success of James Gunn's Guardians of the Galaxy proved to Marvel that the audience is willing to stretch its audience and go along for the ride, where a talking raccoon fires machine guns and one hero looks like a tree. Will that free up Joe and Anthony Russo to get weird with Captain America 3?
"We still think of Cap… what makes him special, in the Marvel universe, is that he lends himself to that grounding," Anthony Russo told us. "At least compared to the other characters who have come down through the Marvel Cinematic Universe. So there is a special quality – Cap shines brightest in that tone. At the same time, the success of the brand certainly allows us to make more experiments and to try certain things. Even if we are staying true to that tone. So right now, we're trying to keep pushing the boundaries of what we are able to do with the narrative and the style, to see where people will go with us."
"More than anything," Joe continued, "the success of Guardians taught us that we can take more chances. We can be riskier."
Captain America: The Winter Soldier was made with Blu-ray in mind.
Joe and Anthony Russo, like all blockbuster directors, understand that not everyone is going to see their creation on an IMAX screen. Some will watch it at home. Others on an airplane. Some might even try to witness Cap's latest adventure on an iPad or (worse) iPhone. "It's going to live, for the most part, in that format," Joe Russo admits to us. "So you do think about that."
"The biggest challenge," Anthony Russo adds, "at the end of the day – you can really only compose for one frame dimension. Right? You can't have multiple frame dimensions. One is always going to be dominant. And you want to compose something that's going to be kick-ass, no matter how it's viewed." Mission accomplished.
There are still a few Easter Eggs that fans haven't found. At least, they think. "Sometimes we forget," Anthony joked.
"It's so terrible. It's like cobwebs in our brain, trying to go back and remember [what we put in]," Joe added. They both say the last time they watched the film in its entirety was at the premiere. But they plan to watch it again in the next few weeks "in case there's anything in Cap 3 that we can pay off or call back to."
If you need a full rundown of the Easter Eggs other Marvel fans found, click here and watch those two videos.
The brothers loved all of your 'Hail Hydra' memes.
It was a unifying phrase for all of Cap's enemies. And it became a battle cry for Photoshop savvy Marvel fans following the release of Captain America: The Winter Soldier. Have a picture of Russian President Vladimir Putin whispering into President Barack Obama's ear? Slap a "Hail Hydra" caption on it and let that puppy fly. The Russo brothers were paying very close attention to the viral sensation, so keep it up.
"I was just saying how much we loved [those]," Joe Russo told me. "We love when people grab on to the twisted stuff."
The brothers also never got entirely comfortable giving direction to Robert Redford. If only because he's such a legend, and they had so much respect for his skill set and his legacy. "I'm not sure if we ever did [get comfortable]," Joe Russo joked. "But I'll tell you this. He is certainly one of the easiest actors we've ever worked with His process is very easy. He's very in tune with the director, and he likes being directed. That's not always the case with actors of his stature. He likes the give and take of coming up with ideas."
"But also, what he represents to us as a filmmaker, is enormous, as well," Anthony quickly added. "The fact that he started Sundance, and that whole movement – that's how we found our way into the business, coming out of Cleveland. We came up through the indie film circuit in the late 1990s, which he began. He's just an enormous figure for us."
The Russos know what's happening in Marvel's Phase 3.
Basically. I asked them if, when they signed on to Captain America 3, Marvel grants them access to screenplays for Joss Whedon's The Avengers: Age of Ultron and Peyton Reed's Ant-Man so they can keep up with continuity as they plan. Joe Russo said Marvel President Kevin Feige is "great about sharing" the studio's plans for future adventures. The brothers said they spent time in London on Whedon's Age of Ultron set, and the key Marvel players email each other ideas all of the time. Joe Russo explained:
Captain America will next be seen on screen next May in Joss Whedon's The Avengers: Age of Ultron. Joe and Anthony Russo will bring the hero to life for May 2016's Captain America 3. And you can own Captain America: The Winter Soldier when it hits shelves on Sept. 9.
Movie junkie. Infatuated with comic-book films. ReelBlend cohost. Resident dad. Extroverted introvert. Wants to see the Snyder Cut. Managing Director at CinemaBlend.