Aaron Eckhart Playing Captain Hook As A Detective In Pan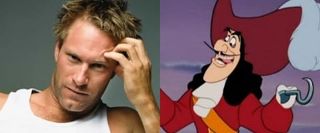 Peter Pan is one of those classic stories that gets trotted out once every decade or so; it happened twice recently, in a glossy straightforward adaptation of the story and, more obliquely, the Johnny Depp period piece Finding Neverland. And while it's a little more unusual to see two takes on the story show up at the same time, that seems to be the trend lately-- there have been pairs of Snow White films, Wizard of Oz revamps and even biopics of John DeLorean in the works in recent years, with studios playing chicken about who will blink and cancel theirs first (in the case of the Snow White movies, they're both going for it. God help us all).
So to add to the Peter Pan origin story that Channing Tatum is developing and the prequel that Disney might make called Peter and the Starcatchers, we'll have Pan, a "dark spin" on the story that will star Aaron Eckhart and AnnaSophia Robb. According to Screen Daily the producers will sell the project at Cannes this week, with Ben Hibon directing the screenplay by Ben Magid; at one point Guillermo del Toro was going to direct the film for New Line, but at some point between del Toro's many commitments and New Line falling completely apart, this one obviously fell by the wayside. Hibon got the job last fall after his gorgeous animation work in Harry Potter and the Deathly Hallows: Part 1 got the attention of everyone, but perhaps most importantly del Toro.
Given the way they're twisting the plot, you may not even recognize this as a Peter Pan film. Eckhart plays Captain Hook as the hero, a former detective hunting down a childlike killer (most like Pan himself) with the assistance of his ally Smee, to be played by tortured Game of Thrones hero Sean Bean. Robb will play Wendy, who has survived a kidnapping by Pan and leads the hunt to bring him to justice. Totally a buzkill if you hold tight to your childhood dreams of sewing on your shadow and flying around the room, but at least more interesting than yet another story about Peter Pan and his magical life. Is it twisted to be a little interested in this? Hey, if it was dark and creepy enough to get Guillermo del Toro interested, it ought to be good enough for me.
Your Daily Blend of Entertainment News
Staff Writer at CinemaBlend