The Academy Awards Just Disqualified Birdman From Competing In This Oscar Category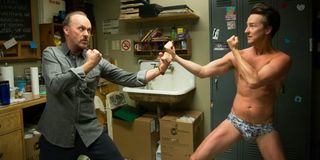 Oscar analysts largely believe that the current Academy Awards race boils down to a two-headed competition between Richard Linklater's Boyhood and Alejandro Inarritu's Birdman. That could change if and when more Academy members start to see Selma, but the point is that Birdman should contend for multiple Oscar next year… except this one.
Deadline reports that an appeal filed on behalf of Antonio Sanchez's percussion-heavy score for Birdman was denied by the Academy of Motion Picture Arts and Sciences' appeals board, meaning it will not be eligible for Oscar consideration. The trade site notes that even though Sanchez's drumming makes up the bulk of the music in the eclectic score, "at question was the use of classical music cues for other points in the film." The rules of eligibility for this Oscar category specifically state that "scores diluted by use of tracked themes or other pre-existing music, diminished in impact by the predominant use of songs, or assembled from the music of more than one composer shall not be eligible." And that now includes Birdman.
You can listen to the score, in its entirety, here:
Deadline reports that Antonio Sanchez, Alejandro Inarritu and Fox Searchlight worked quietly but furiously behind the scenes to appeal to the Academy branch so that the score could remain in contention. But it is being reported that the response was "overwhelming" in favor of not making this score eligible, and that it's possible that members of the Academy's Music Branch Executive Committee "may just not believe a singular drum score is a real score."
As you can tell by the above audio, the Birdman score usually is just a serious of percussion hits, though the unstructured nature of the score lends to the improvisational jazz atmosphere of the entire film. There's no question that the erratic, frequently off-rhythm and confused audio landscape established by Sanchez's score goes along with the schizophrenic nature of Riggan Thomson's (Michael Keaton) psyche as he prepares to resuscitate his career with a Broadway show.
Why is this Oscar consideration important? We'll, Searchlight and Inarritu likely believe in Sanchez's score, of course. But there's also a bit of bragging rights that come with being the film nominated for the most Oscars, and if Birdman already knows that it's ineligible for one category, Boyhood could have a leg up in that particular race. The Oscar nominees will be announced on January 15. What movie should win?
Managing Director at CinemaBlend. ReelBlend cohost. A movie junkie who's Infatuated with comic-book films. Helped get the Snyder Cut released, then wrote a book about it.