The Actors Who Can Make $20 Million For Acting In One Movie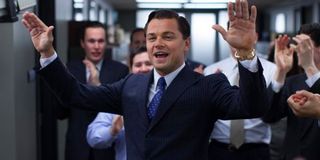 The movie business is in kind of a "best of times, worst of times" state. While big-budget bonanza tentpoles are practically printing money, the collective state of the film industry is looking at a slow but inevitable sea change. That is not to say that Hollywood has hit its nadir. In fact, a recent survey has revealed that studios are still willing pay top dollar for a certain handful of stars, putting them into the esteemed $20 million club of single film salaries.
According to a story in The Hollywood Reporter, a survey conducted across an array of producers, executives and agents revealed that there are six A-list Hollywood stars who are currently pulling in an impressive $20 million or more for their performances in individual films. They are the following,
1. Leonardo DiCaprio - $25 million
2. Sandra Bullock - $20 million
3. Matt Damon - $20 million
4. Robert Downey Jr. - $20 million
5. Denzel Washington - $20 million
6. Angelina Jolie - $15-20 million
As you can see, Leonardo DiCaprio takes top billing in this list; a win that has been attributed to the upfront $25 million salary he received for his starring role in 2013's The Wolf of Wall Street. (Ironic, considering the finger-wagging nature of the film towards obscene opulence.) With DiCaprio, we see someone who has become one of Hollywood's most consistent hitters, with nary a box-office bomb showing up in his filmography. A quick survey of his project choices shows that, unlike a lot of other actors, he doesn't spread himself thin, as he rarely appears in more than two releases per year. In fact, he wasn't even in a movie in 2014. Yet, the meticulousness of his choices has paid off, making what few films he does take to be surefire dramatic hits.
After DiCaprio, it's a veritable 5-way tie with $20 million for the likes of some more of Hollywood's safest bets. Yet, the reasoning for some of them are dramatically different. Unlike DiCaprio, Sandra Bullock has been known to make an ill-conceived choice every now and then. Yet, she fell into a remarkable starring opportunity as the central focus of the space drama Gravity -- a film that, after accounting for various bonuses, reportedly made her over $70 million. (Although, $20 million was her upfront salary. Thus, her standing in second place.)
Bullock's status as a safe-bet has put her on this map since she carries a moviegoing demographic with whom she has strong likability. The same could be said for Denzel Washington and Angelina Jolie, who are inconsistent, but nevertheless statistically reliable. On the other hand, Robert Downey Jr. and Matt Damon are two of the biggest tentpole-project stars out there with the Iron Man and Bourne films, which leaves no further need for the explanation of their presence. Yet, there are several stars just below the $20 million tier like Jennifer Lawrence ($10-15 million), Mark Wahlberg ($10-15 million) and Dwayne Johnson ($14 million) who are nipping at those high-priced heels.
Yet, as we head to the finish line of the first quarter of 2015, we see that none of these $20 million club names are attached to any of the year's top 20 earners. While that will surely change as the year progresses when the big franchises come into the picture, it does leave one to wonder how much longer Hollywood execs will continue to justify these exorbitant paydays when money is being made without them.
Your Daily Blend of Entertainment News
Your Daily Blend of Entertainment News
Thank you for signing up to CinemaBlend. You will receive a verification email shortly.
There was a problem. Please refresh the page and try again.