Adam Scott Coping With Divorced Parents In A.C.O.D.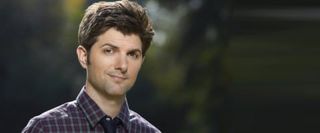 A.C.O.D. stands for adult children of divorce, referring to kids whose parents split up early in their lives and forced them to man up and be the adult. There's definitely a story here, especially now that more than 50% of marriages end in divorce, but the real life stories are probably not as funny as the movie being produced at Black Bear Pictures will be.
Deadline has it that Adam Scott has signed on to star in A.C.O.D. as a man who experienced his parents' divorce very young, now brokering peace when his parents are forced into the same room for his younger brother's wedding. It sounds like it could be good, but there's plenty of room for it to just be a couple of old actors trying to out-zany one another, essentially turning it into Meet the Fockers. Long time Daily Show writer Ben Karlin has penned the script, his first foray into features, but his pedigree says that the we don't have much to worry about.
Scott is currently enjoying great success on NBC's Parks and Recreation and has been making a steady attempt to bolster his standing in the big screen world as well, and not doing a bad job of it. A.C.O.D. will be his fourth film scheduled for release in 2012, alongside indies See Girl Run and Bachelorette in addition to the Seth Rogen/Barbra Streisand Comedy My Mother's Curse. He'll appear later this year in Friends With Kids, which is set to premiere at the Toronto Film Festival next month, with a cast that includes Jon Hamm, Kristen Wiig, Megan Fox and Maya Rudolph. Don't expect this to be the last time you hear the name Adam Scott.
Your Daily Blend of Entertainment News