Adam Scott Joining Jon Hamm And Kristen Wiig In Friends With Kids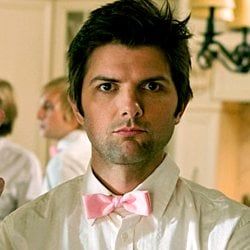 Jennifer Westfeldt has been writing screenplays for over a decade, and made an indie splash with the comedy Kissing Jessica Stein back in 2001, but has never written a film that made what you'd call a major impact. Now she's got a major ace up her sleeve: her long-time boyfriend Jon Hamm, newly a superstar thanks to Mad Men and part of the ensemble cast for her next film, Friends with Kids.
We learned a few weeks ago that Hamm would be starring in the film along with Kristen Wiig nd Westfeldt, and now Production Weekly reports that Adam Scott has signed on as well. Filming is set to start in New York in November, and while there's no word on the plot, we can probably count on another New York-centric comedic story with some drama elements as well. And we can count on the Adam Scott-Jon Hamm team up we've always wanted. OK, I might be the only person who's thought of that before-- but I guarantee now that you've heard about it, you're dying to see it too.
Scott is keeping busy despite the cancellation of his series Party Down earlier this year; he'll be a regular on Parks and Recreation when it returns in January (not soon enough!) and he's part of another New York comedy, My Idiot Brother, which wrapped filming this summer. He's spent so long popping up in tiny roles that it's high time he find some actual stardom, so the more Scott at this point, the better.
Staff Writer at CinemaBlend
Your Daily Blend of Entertainment News
Thank you for signing up to CinemaBlend. You will receive a verification email shortly.
There was a problem. Please refresh the page and try again.