Adam Scott Says The Party Down Movie Is 90% There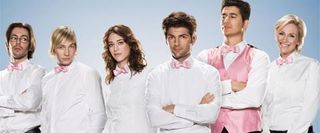 You know what would be amazing? A movie based on the cult Starz original series Party Down. You know what we'll never see? A movie based on the cult Starz original series Party Down. Every time a popular show ends, be it Arrested Development, 24, or Veronica Mars, there's endless talk about a movie that will tie up all loose ends and/or revive your favorite characters. In recent years the only show that was able to succeed in doing this was Serenity, the feature based on Joss Whedon's Firefly, but every other project has either fizzled out or - in the case of Family Guy or Futurama - gone straight to DVD. So will we ever see a Party Down movie? Probably not, but Adam Scott is more than happy to keep our hopes up.
Speaking with Scott at the Toronto International Film Festival, where he's promoting his newest film, Friends With Kids, our own Katey Rich asked if the Party Down movie will just be another Arrested Development situation. While there's no script yet and scheduling still needs to be worked out, Scott said that they are "90% there." Said Scott, "Starz has given their blessing. The cast is all in, we're all ready to go, we just need to work out schedules, get a script ready, all that stuff. But everybody is really excited to do it. We just need to dot the I's, cross the T's, and hope we can get it together and fit it into everybody's schedule. Everybody is super excited."
Scott also talked about the fan reaction to the show, which was eventually cancelled due to low ratings. "The audience really discovered it on their own. When it was on TV nobody watched it. I think they hold it close to their hearts in a way. We're all excited to do a movie. I hope it happens sooner rather than later.
For those unfamiliar with the show, Party Down was about a group of caterers all struggling to find their way into show business. Though the cast was fully stacked to begin with, including Scott, Lizzy Caplan, Martin Starr, Ken Marino, Jane Lynch, Megan Mullally and Ryan Hansen, each episode included brilliant guest stars like J.K. Simmons, Kristen Bell, Rob Corddry, Tom Lennon and Ed Begley Jr. The series was cancelled after two seasons and twenty episodes.
I can't even begin to tell you how excited I was while watching the brief Party Down reunion on Children's Hospital a couple weeks back, but I think it's important not to get too excited for this. We've been hearing about an Arrested Development movie for nearly half a decade now and all we ever hear is, "The script is almost done." A Party Down movie would be fantastic, but let's wait until it goes into production before we start heavily anticipating it.
NJ native who calls LA home; lives in a Dreamatorium. A decade-plus CinemaBlend veteran; endlessly enthusiastic about the career he's dreamt of since seventh grade.
Your Daily Blend of Entertainment News
Thank you for signing up to CinemaBlend. You will receive a verification email shortly.
There was a problem. Please refresh the page and try again.