Adam Shankman Wants Straight Men To See Musicals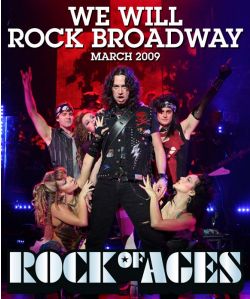 Adam Shankman pulled off something pretty amazing with Hairspray, turning a poppy, extremely silly Broadway musical into a movie that maintained every bit of the fun and energy. Could he do the same not with pudgy teens, but stringy-haired rock stars?
He's going to try, at least, with a movie adaptation of Rock of Ages, the goofy jukebox musical about two people falling in love to the tune of 80s rock anthems by the likes of Journey, Twisted Sister, Pat Benatar, and all the rest. Shankman told Variety, "I had the best time of my life making 'Hairspray' and badly wanted another musical, and when I watched Rock of Ages, I was struck by the fact that not only had much of the audience seen it more than once, every guy in the audience knew the words to the songs." "Guy" is the operative word here, and Shankman doesn't mean the gay guys who know all the words to "Good Morning Baltimore" when they play it as part of Musical Mondays at Splash bar in Chelsea. Rock of Ages is the kind of musical that appeals to the hetero boys and men who made Transformers 2 a hit, and Shankman and company want some of that money for themselves.
Of course, there's a less cynical way to look at this, to assume that Shankman really does want to spread the joy of musicals with the world-- and given how well he did that with Hairspray, I don't doubt that's part of it. But with most Broadway shows just like Rock of Ages, that is, blatant cash grabs who don't know how else to spend their time in the city, it just seems a natural step for Hollywood to get in on the cash as well. Rock of Ages is one of the more successful attempts-- it got five Tony nominations-- but that doesn't make it any less motivated by money.
Your Daily Blend of Entertainment News
Staff Writer at CinemaBlend