Afternoon Awesome: Barbra Streisand Whips Harrison Ford On The Temple Of Doom Set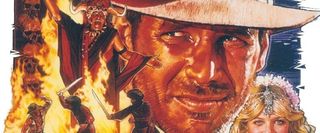 Locked away deep in the annals of film history, the crew over at JoBlo have miraculously unearthed this clip from the 1983 production of Indiana Jones and the Temple of Doom. But this is no ordinary behind the scenes footage, director Steven Spielberg has taken practical joking to a whole new level.
As you are well aware, or should be at least, Indy spends a little time strapped to a stone before receiving a rough flogging with his own whip. Well, since good ole Harrison Ford was tied down with his back turned, what better time than to have Barbra Streisand start whipping him for all his film making "crimes". Then he does one better. Take a look and see if you can make out who the other two practical jokers are.
This may just be one of the best finds in the history of film. Obviously the quality is beyond terrible, but if you squint your eyes and listen closely you can see Carrie Fisher, Princess Leia for the uninitiated, give her Han Solo a big kiss and Empire Strikes Back director Irvin Kerschner pleads with Spielberg to make them do it better. For Christmas this year, I'm asking for a higher quality version of this. Maybe Spielberg will see this low-res version and start digging through the old film reels and deliver something to us that's actually viewable.
So take a look now, and see the transcript below if you can't make them out, and enjoy what may or may not be the only time you ever hear Barbra Streisand say the word 'faggot' in your entire life.
Outstanding.
Your Daily Blend of Entertainment News