Al Pacino Will Cry And Yell A Lot As King Lear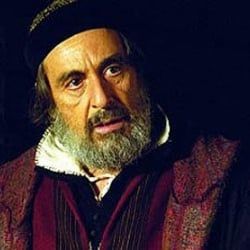 Five years ago Al Pacino and director Michael Radford collaborated on a Shakespeare adaptation, The Merchant of Venice, and no one particularly cared. Apparently they're hoping to change things this time around, with Radford planning to direct Pacino in the title role of King Lear.
As far as I can tell, this is completely separate from another planned Lear adaptation, which would star Anthony Hopkins as Lear and Keira Knightley as his loving daughter Cordelia. At least, the Variety article about the Pacino project makes no mention of the other actors.
So... Pacino doing Shakespeare, huh? It's a shame to think that 30 years ago this would have been incredibly exciting, but now it just feels indulgent, another project from two guys who have already tried basically the same idea once, to overall indifference (Merchant of Venice grossed $3.7 million domestically). Don't blame us if we don't care this time either.
Staff Writer at CinemaBlend
Your Daily Blend of Entertainment News
Thank you for signing up to CinemaBlend. You will receive a verification email shortly.
There was a problem. Please refresh the page and try again.