Alicia Keys Moves Into The House At Sugar Beach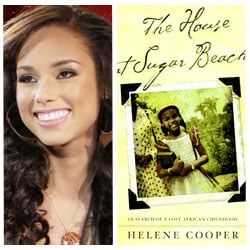 Musicians dabble in acting all the time, but Alicia Keys is looking to take her film career in a more serious direction. We've seen her ditch the mic for Smokin' Aces, The Nanny Diaries and most recently The Secret Life of Bees, but her next venture in front of the lens is far more demanding.
As reported by The Playlist, Keys is all set to star in and produce the adaptation of Helene Cooper's book The House At Sugar Beach. Cooper grew up as a member of the upper class in Liberia. When she was 7-year-old, her parents adopted a poor 11-year-old girl, Eunice, and, from then on, she indulged in the same riches Cooper and her sister were blessed with. When Cooper was 14, a group of enlisted soldiers overthrew the Liberian government, executing her cousin, the secretary of state, as well as the president. Her family fled to the US, leaving Eunice behind. The book hits on every element of Cooper's experience from growing up in Liberia to returning years later to find her long-lost sister.
Clearly this is a true story worthy of a film adaption, but is Keys the right actress to lead as Cooper? It's hard to tell. Her efforts in Smokin' Aces and The Nanny Diaries don't really reveal capabilities to lead an intense drama. The Secret Life of Bees is certainly more along the lines of a moving tearjerker, but her performance was primarily super stoic, leaving the gushy stuff to her co-stars. It might be best to pass the role of Cooper along to a more experienced actress and let Keys stick to producing.
The project resides at her company, Big Pita, Little Pita, and is only in the very early stages of development. Other than Keys, there's really nobody else on board. Not only does the film lack a writer and a director, but Keys' tour isn't scheduled to come to a close until June 6th, so, odds are, little progress will be made anytime soon.
Your Daily Blend of Entertainment News
Staff Writer for CinemaBlend.