Alien: Covenant Won't Include Prometheus' Noomi Rapace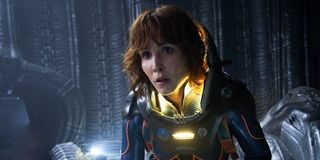 Later this year, Sir Ridley Scott will return to the Alien universe he first visited in 1979 with a follow up to his 2012 science fiction adventure Prometheus, now titled Alien: Covenant. Though this will be a step towards eventually catching up with the Alien continuity, it will still be the direct descendent of Prometheus, but while it will bring back some key pieces from that film, there will be one noticeable absence: Noomi Rapace.
Scott and the Alien: Covenant crew are preparing to film in Australia later this year, but when that commences, Noomi Rapace, who starred in the first film and is one of two characters who survived the conclusion, will not make an appearance. Ridley Scott told Yahoo Australia that the Swedish actress will not reprise her role, and that they are "still casting" the main roles.
The 36-year-old actress played Dr. Elizabeth Shaw, the leader of a late 21st Century expedition to the deepest reaches of space as they searched for the origins of mankind. What they found wasn't what they expected, and things took a deadly turn. At the end of the movie, she blasts off with the pieces of the humanoid robot David (Michael Fassbender), searching for the Engineers, those responsible for creating the human race, and looking for answers to an entirely different set of questions.
Noomi Rapace not appearing in Alien: Covenant runs contrary to what we've heard thus far, but is not a terrible shock. Reports indicated that though she was expected back, it would be in a much smaller role—some suspected in flashbacks or archival footage—and given the timeline, her absence will be easy to explain.
According to the latest reports, Covenant is set ten years after Prometheus. At the end of that film, Shaw and David take off in an alien spacecraft not entirely sure where they're headed. Given a lack of supplies, the uncertainty of their quest, and the hazardous environment that is deep space, surviving for an additional decade is a difficult task.
David doesn't need things like air and food, and he will still figure prominently into the narrative—there have even been rumors that Michael Fassbender may play two roles. The plot revolves around a colony ship called, you guessed it, the Covenant. When the crew encounters a planet that they initially believe to be an uncharted paradise, they wind up finding much more than they bargained for. The only inhabitant is the synthetic David, and things are far from as idyllic as they appear at first. According to Ridley Scott, we're going to get a bunch of different alien threats, both new creatures and familiar beasts, which sounds awesome. At least for audiences, the crew of the Covenant probably won't enjoy their presence as much.
Inherent Vice star Katherine Waterston has signed up to play the lead, a character named Daniels. There's not much more known about her role, though some have speculated that, since Ridley Scott has talked about how these new movies will lead directly to Alien, perhaps she is some relative of Sigourney Weaver's Ellen Ripley. Let's hope she's even a fraction that badass.
Production is set to kick off in Australia in relatively short order, and Alien: Covenant is slated to touch down in theaters on October 6, 2017.
Your Daily Blend of Entertainment News
Thank you for signing up to CinemaBlend. You will receive a verification email shortly.
There was a problem. Please refresh the page and try again.