Michael Fassbender Will Play Two Roles In Alien: Covenant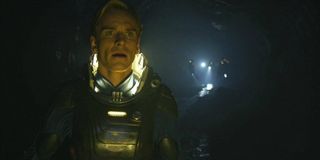 Fresh off providing us with an update on some of the questions that he'll be answering with the upcoming Alien: Covenant, Sir Ridley Scott has once again been talking about the upcoming Prometheus sequel/Alien prequel. The legendary English director confirmed that Michael Fassbender, who, I think we can all admit, stole Prometheus thanks to his fantastic performance as David the android, will actually play two roles in the blockbuster. Which, for an actor of his caliber, could produce scintillating results.
Scott made this admission during a press conference, witnessed by Screen Daily, for the upcoming science fiction film that was held at Sydney's Fox Studios Australia. The event was organised to celebrate the fact that production will take place down under. While speaking about Alien: Covenant, not only did the filmmaker reveal that Noomi Rapace will be returning as Dr. Elizabeth Shaw in only a minor capacity, but he also delightfully teased that Michael Fassbender will play two parts.
Sir Ridley also confirmed that the casting of the crew of the colony ship Covenant, who meet David after landing on a remote planet that they mistake for an undiscovered paradise, is at an advanced stage. However, unfortunately, it's not far enough along for him to reveal the names of who might be starring, since no contracts have been signed just yet.
But, obviously, the most tantalising bit of information was that Michael Fassbender will have a dual role. Now those of you that have the end of Prometheus burned in your memory will remember that Fassbender's character was decapitated by an Engineer.
Does this mean that the two parts of David's severed body have managed to grow a new head and torso respectively? Very unlikely. What's more likely is that the Covenant crew probably possess their own version of David that they bring down to the planet.
That could then also spark an interesting conflict between the two Davids, who might even form a deadly android alliance that puts the Covenant crew in jeopardy. Of course, at the moment, that's just wild speculation until Sir Ridley provides us with further information regarding the hugely anticipated instalment of the Alien franchise.
Production on Alien Covenant is due to begin in March, 2016, when Michael Fassbender arrives in Sydney to shoot, while it will finally hit cinemas on October 6, 2017. It doesn't stop there, though, because there will be two more sequels to follow.
Your Daily Blend of Entertainment News