Allison Janney Dishes On The Way, Way Back And Drop Dead Gorgeous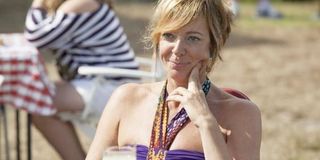 There are few actors in the world who thrill me as much as Allison Janney. Of course, like many young women I idolized her as C.J. Gregg on West Wing, but I became a fanatic once I saw the 1999 comedy Drop Dead Gorgeous where she played a trailer park flirt with a big mouth named Loretta. Since then I've eagerly awaited her comic turns, be it in Stanley Tucci's The Impostors, Jason Reitman's Juno or the bevy of other bright spots on her résumé. So, I leapt at the chance to talk with her as she did press for her latest release, The Way, Way Back.
The directorial debut of Academy Award-winning writers of The Descendants Nat Faxon and Jim Rash, The Way, Way Back is a coming-of-age dramedy that boasts an impossibly charming cast, including Steve Carell, Toni Collette, Sam Rockwell, Amanda Peet, Rob Corddry, and Maya Rudolph. Between its ensemble and Oscar-honored writer-directors, it's little wonder it got picked up shortly after its premiere at the Sundance Film Festival. But beyond its pedigree The Way, Way Back has an earnestness and joy to it that its cast hopes will help it stand out in a crowded summer release schedule.
In the film Janney plays Betty, the recently divorced next-door-neighbor to the vacationing family at the story's center. She's loud. She's got no boundaries. She's in a spin because her husband dumped her for a man, and she's inviting herself over. Deal with it. In her introduction, Betty spouts out about five pages of dialogue, serving as an intense introduction to her character and a testament to Janney's remarkable abilities. But her no-nonsense confessions about her gay ex, her frenemies and her youngest son's wonky eye are just the beginning of this outrageous character.
When I walked in to speak with Janney, my plan to play it cool flew out the window immediately. Instead, I gushed about how thrilled I was to meet her, calling her one of "the most smartest" women in the world and professing my love for Drop Dead Gorgeous before I even turned on my recorder. Some days my job requires talking to celebrities. Sometimes I geek out. Hard. Thankfully, Janney was lovely and gracious about my brief explosion of fandemonium, laughing, "I feel more like Loretta than anyone else I have ever played in terms of intelligence," and confessing that Loretta's beloved line "I got some" was actually an ad-lib she'd come up with. From there, I mellowed and we discussed what drew her to The Way, Way Back, the extraordinary experience of shooting on location in a real beach town, and—of course—about Drop Dead Gorgeous.
So we'll start talking about this movie. Can you tell us about Betty, and what excited you about the chance to play her?
Allison Janney: First I got a call from Jim Rash, who I have been friends with for a while and I'm a huge fan of his because I used to go to the Groundlings to watch him perform with Nat (Faxon) and Melissa McCarthy. They were all just incredible. I loved them. I idolized them. And then he called me to say he had this movie, and I immediately got excited that he said he had a part for me. It made me feel very flattered, and very excited that he thought highly of me. And then I read the script and read that first scene that Betty has, and I was just over the moon excited because she was just a big ol' hot mess, and so much fun to play. I like as an actress being challenged with a scene like that. I like being in control of the scene, and being the one who has to guide it, throw it all over the place like a pinball machine. And it was really fun. I think…we filmed that in one day, and it was the most exhausting day of filming I'd ever had. 'Cause I forgot about all the coverage (when we did my shots), and that energy level had to match it. And they were like, "Allison, you were a little higher than that." I was like, "Really?!"…It was excruciatingly hard to match the energy level every time. So, I was exhausted. But had more fun than I have ever had doing anything because of Jim and Nat. Everyone who was there just loved them.
Well, they've said they wrote the part of Betty for you.
I know! I didn't know that he wrote that part for me (until much later.) I think he's lying; I can't believe he wrote that part for me. But it makes me very flattered and very excited that he did.
And you had Ann Roth (Academy Award-winning costume designer) doing the costume design, how did that influence your performance?
I'll tell you how it influenced me. Ann Roth is a genius. She did my Broadway debut, Present Laughter, back in 1998 or something. Then I did Primary Colors with her. I did The Hours with her. And then when I heard she was doing this! I just relaxed when I knew Ann was doing the costumes because she is such a genius at creating character. She's just spot-on with her instincts and everything. So I just breathed a heavy sigh of relief when I found she was finding the right costumes for Betty. I mean there's nobody better.
Was there any piece that you wanted to take for yourself?
Oh those white jeans! At the time I thought, 'I got to have these!' And then I saw myself in them and thought, 'Nah. I think you can keep those.' But they were pretty special when I put those on, with the rodeo cowboy on them. They are hysterical. There was a beach cover-up I liked, but I didn't take anything.
You've described Nat and Jim as 'good cop, bad cop' in their approach to directing. Can you tell us about that?
I was sort of kidding. I think that they have been working together so long that it's sort of like having two of one person. So they can get more accomplished, like 'You go talk to camera, I'll talk the actors.' And they'd switch up. They knew they were one voice; they've been working on it so long. And they were great. When I did that monologue scene in the kitchen, they would come in like a huddle with these serious faces. And I was like, "Are you liking anything I'm doing?!" And they were like, "Yes. Yes!" But they wanted so much out of me, "Like on this line, do this." "Yeah, yeah, but she did that last time, let's have her do this." It was just a great energy between them. It was really fun. I just wanted to please them so much. I wanted to make them happy.
Was any part of you nervous about this being their first directorial effort?
Not at all. I've worked with a lot of first-time directors, like in this sort of situation. I think they directed other things, but not film. No, I wasn't afraid at all. I felt very confident with them. They surrounded themselves with (great people)—I mean look they got (cinematographer) John Bailey, they got (costume designer) Ann Roth. They were smart with the people they surrounded themselves with so they could do their job.
You shot in a real town. The locals came out in force to watch, and it's been described as being "a theater in the round" with people watching and applauding after takes—
Oh my god! The big party scene, you know where the big blowup (between Duncan and Trent happens)? The backyards of all these houses—we all rented houses on the same strip that ran parallel to the beach—and one of the houses we shot in is where we did the party scene, and it was amazing! This night we filmed until the sun came up and the whole night the whole perimeter of the place—unless we were shooting in that direction, then they would move—but everyone was out in full-force watching. You know, people on their own back porches are having parties. And then when we were rolling, they would all stop. It was a giant party in this town called Green Harbor up in Marshfield, Mass. It was genius. So fun.
What do you think sets The Way, Way Back apart from its summer competition?
Truthfully, I don't even know. I think most movies are these big, green-screened CGI big overproduced behemoth movies. And this is like a classic of the old school summer movie with great characters. It will make everyone nostalgic for summer vacations past and I think everyone will come out of it feeling good, in a really honest simple way. It's just a lovely simple, movie. I think that's what it has, is an honest simplicity.
Betty is sort of in the middle of a change in this movie. Where do you think she'll go from where we see her here?
Well, I like that because of Toni (Collette)'s character, she forms a friendship with her because they are both going through similar changes in that they both have relationships that have split up. And they are both trying to keep some semblance of family. And at the start Betty's daughter is not talking to her, and it's just like everything is fractious and she's drinking too much. I think by the end of the movie, she feels a sense of hope that everything is going to be okay. She's not alone. Her friendship with Toni's character changes her. And there's just one brief physical moment with Betty and her daughter at the end where they have their arms around each other. And you have hope that she's going to get through this and maybe let go of some of the drinking and talking too much. You know, it's small little steps but I feel like it's forward movement.
The movie is reserved in this respect, but there's this weird little spark between your character and Rob Corddry's character and I was like, 'Maybe that's going to happen?'
Oh my god! Now that you mention it, I think yes! I think he's going to leave Amanda Peet—I can't remember what her character's name was—but I think that was probably in there because I love Rob Corddry so much. He is the funniest man; I cannot tell you how much I love him. I adore him. I just want to eat him up. So, I think I put some of that in there just because I decided Betty—well, also Betty just wants male attention from anybody. She's just a big flirt. But I definitely had fun flirting with Rob Corddry.
She's so frank in who she is, and so outrageous and she's a big flirt. I decided she's Loretta (from Drop Dead Gorgeous's) sister.
(Laughs) I think you could be right there. That's hysterical. Do a family tree of all the characters I've played. (With a thoughtful high tone) Well, Loretta and Betty are sisters.
CJ would be a third cousin who doesn't talk to that side of the family anymore—
Yes! Exactly. They are related through marriage!
She'd show up at a family function and be like, "Oh my god why is your hair so big? What is happening?"
Oh my god, that's hysterical.
I said as I came in, I do think that Drop Dead Gorgeous is one of the best comedies of the past twenty years. I think it holds up and it's really funny. But at the time, it wasn't a big thing.
I know. I don't know why it didn't get (big). It was like the Bridesmaids of its time.
It's so smart and funny. But are you aware how big it's gotten since then? Like people are obsessed with this.
No, I don't. I'm not aware of that. But I do know people do come up to me and say that—of all the things I've done—that's among the ones I get the most comments on, being in Drop Dead Gorgeous.
Can you tell me what it was like working on that movie?
I was in Minnesota for five or six weeks I think. And I just remember my first day of shooting. I had to work with Ellen Barkin and we had to be in the theater watching Kirstie Alley perform. And she was not there. She had already finished shooting, so I never even met her. And I had to be there with Ellen Barkin, who I met that day, and we had to be best friends in that audience watching. I was terrified.
That was the first day!?
That was my first day of shooting. It was crazy. I was so in awe of Ellen Barkin and be her best friend and have that. It's just so weird. Film acting is just so bizarre, it's like "There's your best friend. And go!" I'm like, "Oh, Okay." You know, you don't want to overplay it, but I was terrified.
And getting the accent down took a while. I would go to the Mall of America and just walk around listen to people, and record them. I just couldn't believe it. People wouldn't believe me if I had this accent! It took a long time but it was really fun to finally get. I still, I still go into that (affecting the Minnesota accent) all the time. Oh yeah.
My brother lived out there too, so it was great fun. I got to hang out with him all summer. I think we filmed in the summer. I don't remember. And Kirsten Dunst was such a sweetheart. She was such a little girl then! And Brittany Murphy, who I had just done View from a Bridge with on Broadway, and we did something before that. We did like three things in a row together, and then did Drop Dead Gorgeous right after that. I don't know. But she was lovely, I spent a lot of time with her. They were just really fun. And Mo Gaffney!..And Nora Dunn. Having drinks with them after shooting. It was extraordinary, really fun.
It's amazing how many people after that blew up. Amy Adams is in that movie.
Amy Adams is in that movie! I forgot! Amy had a smaller role on West Wing. I did some location shoot with her in Pittsburgh before she (broke through). It's just amazing.
Where do you think Loretta would be today?
(Sliding in the accent for a moment) Oh my god. Loretta is back in a trailer. She is exactly where she was there. And maybe she's getting laid right now. She's getting some right now. (Laughs)
What's so extraordinary about your work is that it seems like you refuse to be put in a casting niche. Like Loretta and Betty could not be more different from C.J. Cregg, who is composed and professional even in the most intense moments. How have you defied being typecast?
I don't know. I'm really happy about it though, I'll tell ya. I don't know. Why is that?…I think because I did it once and people saw. And it was like, "Oh, she did that and that!" Some people don't get that (opportunity). Some people get a show that runs for seven years, and then people didn't see that they did anything before. And I had the advantage of Drop Dead Gorgeous, so I had 'she did that and that.' I had proof already in the can! She can do that. And I'm so grateful that I can get to do all these things.
There's been a rise in talk of how Hollywood seems to sideline actresses once they age out of ingénue status. Would you care to you speak to that?
I never went through any ingénue status. I was playing 40-year-olds when I was 15. I never got cast in that, in the ingénue roles. So I don't think that applies to me. I don't like that when that this happens to women. I think it still does. It's unfortunate. I think movies like—not that the Bridesmaids girls were a certain age, they are still young—we just have to have more. I mean there probably are scripts out there that exist for women over a certain age but studios won't do them. I don't know what the answer is. More women need to be positions where they can green light scripts that are written for older women. I'd love to star in a movie, where I was number one on the call sheet and have a story would be interesting and commercial, and people would want to go see it.
Well, you do have Tammy coming up where you got to work with Melissa McCarthy.
I do! And Susan Sarandon plays my mom in that, and I play Melissa's mom. We were all laughing about age inappropriateness of all of us...
What can you tell us about Tammy?
Melissa wrote it (with Ben Falcone)…and her husband Ben's directing it. And it's a road trip movie basically. She's this girl who is just running away, doesn't seem to be able to live her life. She keeps getting in her own way and getting in trouble. She keeps running away and coming back. And she hates her grandmother and they end up—this is not a very good description of the movie because it's very funny—but they both end up wanting to run away from their lives, going on a road trip together. And they end up discovering an appreciation for each other, and learning to love each other. That's a terrible description of the movie. It's really, really funny!
It's you and Melissa McCarthy. I'm sold.
I'm not in it a lot. I'm in the beginning of it and they go off on the road trip. It's a movie about those two. But I wanted to be in it because I just love Melissa McCarthy and Ben. They are so funny. They are my idols from the Groundlings. Watching her perform, she had all these characters...She's fearless. She really is.
The Way, Way Back is in theaters now.
Your Daily Blend of Entertainment News
Staff writer at CinemaBlend.