The Way Way Back Is Sundance's Most Expensive Acquisition, But Was It Worth It?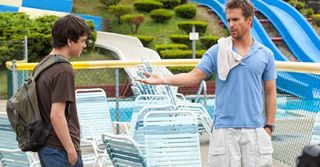 As many films as there are that have come out of Sundance with expensive distribution deals on their way to becoming massive hits, there are just as many cautionary tales of movies that cost a studio a fortune up in the mountains, then landed with a thud when back at sea level. That's scared a lot of distributors from making multi-million dollar deals in the past years, each of them wanting to find the next Little Miss Sunshine but not wanting to pay the $10 million to get it.
But this year, apparently, there's a movie so similar to Little Miss Sunshine that the same studio, Fox Searchlight, was inspired to pull out their biggest checkbook. Jaws dropped here in Park City when the news broke that Searchlight had paid $10 million to acquire The Way Way Back, the light comedy that shares so much DNA with Little Miss Sunshine it's even got Steve Carell and Toni Colette in the cast. And even though critics technically don't care at all how much a film sells for, that kind of price tag gets attention-- and may have raised the expectations a hair too high at the film's press screening yesterday.
Because while The Way, Way Back is often very funny, and contains what might be the best scene-stealing Sam Rockwell performance yet, it's slighter and less emotionally resonant than that $10 million might suggest. The script from the Oscar-winning duo of Nat Faxon and Jim Rash (who also have very funny small roles) isn't quite able to juggle the huge cast of characters, leaving the likes of Amanda Peet and Maya Rudolph to turn in delicate performances that don't quite go anywhere. There are acres of emotional territory to be explored in this coming-of-age story, but the film is content to only cover a few of them, toss in some good jokes, and leave the audience happy but unchanged. But again, that's not a bad thing, and perhaps expectations need to be lowered quite a bit before The Way Way Back makes its theatrical debut.
Starring Liam James as Duncan, a 14-year-old trapped on family vacation with his mom (Toni Collette) and her overbearing new boyfriend (Steve Carell), The Way Way Back gets its most interesting relationships from Duncan's hunt for a father figure in the wake of divorce. Trent, the new boyfriend, is a controlling and egotistical type trying in all the wrong ways to get Duncan to open himself up to the world. Bored and unwanted practically everywhere at Trent's beach house, Duncan rides his bike to the local water park, where the energetic and childlike Owen (Rockwell) quickly offers him a job and takes him under his wing. After a fortuitous moment of breakdancing (seriously), Duncan becomes part of the water park family, while back at the beach his actual family is already starting to fall apart.
Though Colette and Carell set up an interesting dynamic, and Allison Janney is aces as their blowsy, nosy neighbor, the water park scenes are where The Way, Way Back actually comes alive. Rockwell's spark plug performance makes the whole run-down place feel like a kid's fantasy, but his character's sadness at being stuck in life comes through, and though it's underdeveloped, his stalled romance with Maya Rudolph's character feels authentic and sad as well. The water park scenes could easily make up their own movie-- though then it would pretty much just be Greg Mottola's Adventureland-- and their charisma makes it trickier to return to the more traditional story of Duncan's home life, where Trent is already such an unappealing figure that it's not at all surprising to see Duncan's mom start losing interest.
The entire film is deliberately filled with anachronisms, like the station wagon that Trent drives (and gives the film its title), and seems like it was originally written to be set in the 70s but updated to modern day for budget reasons. That's the only evidence of the much-dreaded Sundance style quirk, but it's a little irritating, one of the many ways in which The Way Way Back doesn't quite get there. This movie will be everywhere when it heads toward theaters this summer. See it for the Sam Rockwell performance, but keep your expectations in check while you're at it.
For our full lineup of Sundance coverage-- it's still happening!-- click here.
Your Daily Blend of Entertainment News
Staff Writer at CinemaBlend