Amy Poehler And Paul Rudd's Rom-Com Adds New Girl's Max Greenfield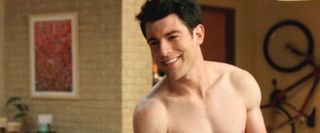 The comedy They Came Together is already promising enough, with Amy Poehler and Paul Rudd reuniting with Wet Hot American Summer director David Wain for a romantic comedy. Now they've added another comedic talent to the lineup, and this one from a slightly younger generation. Deadline reports that Max Greenfield, who broke out as the most popular star of Fox's New Girl, has signed on to play the couch-surfing younger brother of Rudd's character.
If this is all sounding a little too typical romantic comedy, don't worry-- earlier reports have described the movie as a rom-com parody, with Rudd's character the head of a corporation that's threatening Poehler's character's knick-knack store, in a plotline snagged pretty clearly from You've Got Mail. If the mention of parody makes you roll your eyes and think of garbage like Meet the Spartans, don't forget that Wet Hot American Summer is essentially a parody of 80s summer camp movies, that of course evolves into something much wilder and sillier than that. Wain is writing the script for They Came Together with Michael Showalter, who also helped him write Wet Hot, so there's a lot of reason to hope they'll repeat the feat.
As for Greenfield, if you haven't caught his silly and consistently surprising work on New Girl, you owe yourself of catching up on the season over the summer. It grew a lot from its start as a quirk-overload showcase for Zooey Deschanel, and Greenfield's Schmidt developed from a typical douchey office guy to an endearing-- and yes, slightly douchey-- character all his own. Now, with his breakout role just taking off, Greenfield has the chance to prove an even broader range of talents. Can't wait to see how it turns out.
Staff Writer at CinemaBlend
Your Daily Blend of Entertainment News
Thank you for signing up to CinemaBlend. You will receive a verification email shortly.
There was a problem. Please refresh the page and try again.