Amy Smart's Naked Crank Wrestling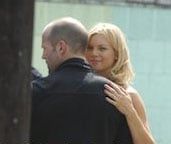 It looks like Crank2 is going to be rated-R, for nudity. Or at least partial nudity. Those sneaky paparazzi over at JFX have pointed their lenses at the set of Crank 2, where they, being tremendous pevs, snapped pictures of Amy Smart on set, sans top.
The really strange thing about their report isn't the fact that Amy Smart's nipples are covered with electrical tape, or that she looks as if she's wrestling naked with a group of cops, but that they say they were shooting the scene entirely with hand held video cameras. And not just hand held cameras, but hand held cameras operated by guys wheeling around the set on roller blades. Sounds insane. There's a good chance that watching this movie make me throw up.
To see all of their pics from the set, click to JFX.
Your Daily Blend of Entertainment News