An Expendables, Fast And Furious Team-Up Is Possible, Says Terry Crews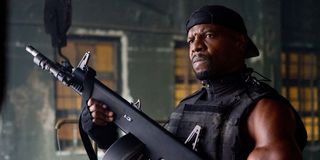 Action fans are dreamers. Action movies are by their very nature fantasies, built upon the idea that we can solve the world's problems with punches, kicks and bullets. And The Expendables is the ultimate dream for action fans, teaming up some of the greatest action heroes of all time in a epic filled with machismo, toughness and biceps biceps biceps. But there are only three Expendables films, and there are only so many action heroes you can add to that roster. So what if The Expendables threw a party, and The Fast And The Furious crew crashed it?
The honorable President Dwayne Elizondo Mountain Dew Herbert Camacho, aka Terry Crews, was asked by Digital Spy about his dream for the future, after The Expendables 3. His dream is a big one, a beautiful one, a dream that we can all share. Said the actor of the possible mashup,
Watch the below video, and skip to the part about 2:00 in:
For a moment, let us hold hands, and dream together: dream the dream of President Camacho. Let's do some math:
The Expendables 3 features a core Expendables team of Sylvester Stallone, Dolph Lundgren, Jet Li, Jason Statham, Randy Couture, and President Camacho, with Arnold Schwarzenegger, Harrison Ford Wesley Snipes, and Antonio Banderas in support, along with a whole bunch of action newbies like Ronda Rousey and Tito Ortiz aboard. Very exciting.
Then there's the coming Fast And Furious 7, which features franchise mainstays Vin Diesel, Dwayne Johnson and Michelle Rodriguez, as well as Djimon Honsou, Tony Jaa, villains Statham and Kurt Russell, and once again Ms. Rousey. And, well, the gods wept.
President Camacho also suggests he'd love to see the likes of Russell, Johnson, Diesel, Steven Seagal, Mark Wahlberg, and The A-Team, which presumably would include Liam Neeson (YES), Bradley Cooper (alright), Sharlto Copley (no) and Rampage Jackson (… that's ok). If we can limit that to Neeson and trade out The A-Team to Taken 3 and bring him in as Bryan Mills, yes.
This would mean Lionsgate would have to work on a deal with Universal to allow these worlds to clash. The Expendables is only a two film franchise as I write this, but so far its collected $579 million in worldwide theatrical gross. The last two films in the Fast And Furious saga EACH collected more money, and that franchise has accounted for $2.4 billion in ticket sales for Universal. And the seventh film will probably be a massive event, given that it's the final film in the series for late star Paul Walker. The Expendables 2 opened to $28 million, but this Friday's part three is only tracking in the vicinity of $23 million. So yeah, Universal has absolutely no financial motivation to make this happen.
But, for a moment, let's dream. Let's dream that Dom Toretto and his crew of drivers (including Letty, Roman, Tej and oldest teenager ever Sean Boswell) have to face an unstoppable menace, an evil drug baron (played by Steven Seagal) who is working with a corrupt politician (Jeff Speakman) to limit carbon emissions under the guise of prompting World War IV in the Middle East. And the crew's only hope is to locate an independent, elderly paramilitary group headed by Barney Ross. And to gain access into secret government files, Luke Hobbes needs to contact off-the-grid special agent Darius Stone (Ice Cube) to uncover a massive human trafficking case, with one of the targets being a now-grown-up Kim Mills (Maggie Grace). Once they finally capture the drug baron, they can't break him and get him to give up nuclear codes. Calling in a favor, Ross dials up the former head of CTU, Jack Bauer. Within minutes, they all find out it's a scheme orchestrated from the very top by... Mr. Church! Bruce Willis cackles, President Camacho is a profet, the screen reads TO BE CONTINUED and everyone is a billion dollars richer. It's beautiful.