An Infographic Guide To Actual EGOT Winners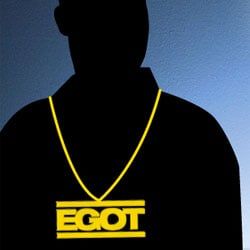 Tonight the quest for EGOT will begin for several lucky winners at the 62nd Annual Primetime Emmy Awards. What's an EGOT? It's the pinnacle of entertainment achievement. Anyone can win an Emmy, or a Grammy, or an Oscar, or a Tony, but only a lucky few have ever won all four. Those who do hold the coveted EGOT: Emmy, Grammy, Oscar, Tony. The term was popularized by 30 Rock, where Tracy Jordan's pursuit of the unattainable EGOT remains a running gag.
On 30 Rock it may be a joke, but achieving the EGOT is for real. Earlier this week we broke down who the leading EGOT contenders are here, but before they kick off their quest to achieve Tracy Jordan's ultimate endeavor, let's look back at the lucky few who have achieved the EGOT dream. Here it is, your complete guide to current EGOT winners:
Your Daily Blend of Entertainment News
Thank you for signing up to CinemaBlend. You will receive a verification email shortly.
There was a problem. Please refresh the page and try again.