Andre 3000's Jimi Hendrix Biopic Will Feature No Hendrix Music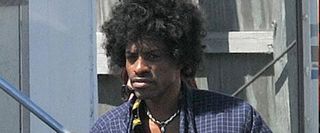 Poor Andre "3000" Benjamin. The musician-turned-actor seemed poised for a breakthrough with his starring role in the Jimi Hendrix biopic All is By My Side. From the first snapshots of Benjamin in costume, he had nailed the guitar legend's iconic style. All that was left was for him to bring his stellar showmanship to Hendrix's songs. But what was formerly seemed a challenge is now an impossibility as Rolling Stone reports the Hendrix estate has refused to issue music rights to the film.
Experience Hendrix LLC, which is run by Hendrix's surviving sister Janie, released a statement saying they would never lease Hendrix's original songs to a biopic without having "full participation" in the film's creation. This would seem to leave All Is By My Side's producer in a pickle in the realm of 30 Rock insanity , but, unbelievably, producer Sean McKittrick insists the filmmakers never intended to use Hendrix's songs, as the film is set in the era before he blew up. But how do you tell the story of Hendrix's life without his music? Apparently using cover songs by other artists.
Hendrix memorably covered the Beatles' Sgt. Pepper's Lonely Hearts Club Band, so Benjamin preformed this as well as songs by Muddy Waters, Elmore James and Curtis Knight in the vein of Hendrix. Music supervisor Danny Bramson (Almost Famous) oversaw the production of these remakes, which feature the "session-legend power trio" guitarist Waddy Watchel, bassist Leland Sklar, and drummer Kenny Aronoff. The results could eventually be released in full as the film's soundtrack.
Even if it was intended that All is By My Side would never use Hendrix originals, it seems an added challenge for Benjamin's portrayal. But while this is a major and embarrassing setback, I'm still pulling for Benjamin to make the best of bad situation. The man has a spectacular charisma, and hopefully this channeled into an incredible performance will pull focus from All is By My Side's selective soundtrack.
All is By My Side is now shooting in Dublin, but principal photography should wrap this week. The film's producers hope the biopic will make its premiere at Sundance early next year.
Your Daily Blend of Entertainment News
Staff writer at CinemaBlend.
Your Daily Blend of Entertainment News
Thank you for signing up to CinemaBlend. You will receive a verification email shortly.
There was a problem. Please refresh the page and try again.