Angry Father Kicked Out Of Movie Theater For Carrying A Gun, Vows Never To Return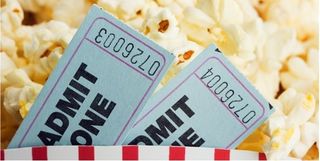 David Lowndes lives in Topeka, Kansas, and often goes to his local movie theater with his children and an accoutrement he frequently keeps on his persons: his gun. When this latter detail was brought to the attention of the theater manager, he had no choice but to escort him from the property. But now Lowndes is extremely angry and embarrassed by the entire situation, and he says he's likely never to return.
Regardless of which stance you take within the hot-button issue of gun control, this situation was poorly handled. The news was first reported by wibw.com, which refers to Lowndes as a law-abiding gun-carrier. Kansas is an Open Carry state, which means that gun owners are allowed to carry firearms on their persons. However, certain establishments are allowed to turn away customers who choose to carry guns, as long as they display highly visible signs declaring such.
According to Lowndes, although he discovered later that the theater in question, the Regal West Ridge 8, did have a no-guns sign, he made every attempt to learn of their policy. He notified movie clerks in the past of his weapon and asked if this would be a problem, to which they told him it wouldn't. As such, he's brought his firearm in this same theater a number of times in the past. On his last trip their with his family, though, he was forced to leave the property. As Lowndes described, the no-guns sign he was led to during this instance was "thumbnail" in size and the disclaimer was even smaller.
Gun control has always been a hotly debated issue, but in recent years a slew of gun violence-related tragedies have made headlines. More notably, the nation was rocked when a man walked into a theater screening of The Dark Knight Rises and fired numerous times into the crowd, both killing and severely injuring civilians. Judges and defense attorneys have recently begun interviewing potential jurors out of a pool of 1,000 people. Though, the parents of shooter James Holmes are hoping to avoid the death penalty. Elsewhere, two more widely reported movie theater shootings have taken place — one in the Sunrise Cinemas in Fort Lauderdale and the other just outside an AMC theater in Creve Coeur, Missouri. Given the sensitivity and fear surrounding situations like these, it's understandable why movie theaters would want to crack down on security.
Your Daily Blend of Entertainment News