Anna Faris Refuses To Be A Porn Star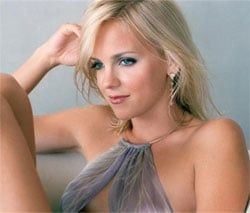 Anna Faris isn't interested in being taken seriously. Around this time last year we heard that Faris might be trying her hand at drama (and perhaps nudity), by playing renowned porn star Linda Lovelace, in a biopic about the Deep Throat porn star's life called Inferno. Now though, Faris has decided thanks but no thanks, according to our friends over at MH.
And I'm not kidding when I said she doesn't want to be taken seriously. That really is her reason. She says she's going to "stick to comedies" and that playing Lovelace would be to "heavy" at this stage in her career. I'm not sure what stage she thinks she's in, I'd say she's in the stage where she makes crummy comedies which barely anyone shows up to see. A little porn could do her career a world of good, or if not porn then at least trying her hand at drama.
So, forget Faris. She'd rather make Scary Movie 69, or whatever number they're up to by now. That means Inferno needs a new lead. It's probably for the best, maybe they can find a real actress this time. What about Anne Hathaway? She's the right age, she can act her ass off, and the girl has never met a nude scene she didn't like. If she'll get naked for a piece of garbage like Havoc, playing Linda Lovelace should be no problem for her. Perhaps more importantly, Hathaway doesn't mind being taken seriously.
Your Daily Blend of Entertainment News