Anna Kendrick And The Wackness Director Join James McAvoy Cancer Comedy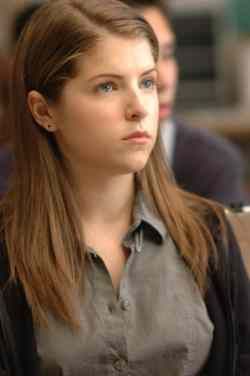 Anna Kendrick is on a friggin' roll right now after her sure-to-be-Oscar-nominated performance in Up in the Air, so it was only a matter of time before she snagged some sweet new job to capitalize on her newfound success. Turns out that job will be with fellow bright young thing James McAvoy and, uh, The Wackness director Jonathan Levine?
There's a strange collection of names now attached to the project formerly known as I'm With Cancer, in which McAvoy plays a twenty-something diagnosed with cancer and learning how to live with it. Seth Rogen and Evan Goldberg (who also wrote Superbad and Pineapple Express together) will be producing the film, in which Kendrick will play a young psychologist trying to help McAvoy's character while learning how to do her job herself.
The role sounds perfect for Kendrick, who's got the "confused young go-getter" thing perfected. I'm both surprised and delighted to see Levine on board, since The Wackness was a small pleasure but largely underappreciated, and his actual debut feature All The Boys Love Mandy Lane hasn't managed to get a release at all. Even weirder, Levine is replacing indie auteur Nicole Holofcener, who seems like a truly bizarre choice. Given that he's such an un-obvious choice, it seems likely he had a particularly great vision for the film, or at the very least offered a lot of potential for very cheap. It's hard to know what to make of this movie, but it seems likely it'll be worth seeing regardless.
Staff Writer at CinemaBlend
Your Daily Blend of Entertainment News
Thank you for signing up to CinemaBlend. You will receive a verification email shortly.
There was a problem. Please refresh the page and try again.