Anne Hathaway Confirmed As Catwoman And Tom Hardy As Bane In The Dark Knight Rises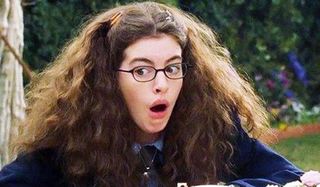 Finally, another bit of casting news on The Dark Knight Rises that is more than just a rumor. According to a press release from Warner Bros., Anne Hathaway has been cast to play Selina Kyle, a.k.a Catwoman, and Tom Hardy has been confirmed to play the villain Bane. Here's what Nolan had to say about both:
Hardy, of course, has been a confirmed member of the cast since last October, and ever since then rumors have had him pegged as everyone from a crooked cop to the psychotic Hugo Strange. Few rumors centered around Bane thanks to Nolan's suggestion that he wouldn't use any villains featured in previous films, but really, the only evidence for that was in an interview co-writer David S. Goyer did two and a half years ago; clearly Goyer and Nolan think they can do something original with the characters, and given the success of Heath Ledger's re-imagined Joker, who can blame them.
As for Hathaway, she was listed alongside a number of other actresses auditioning for one of two female leads in the film last week; presumably another part, a love interest and/or a villain, is still up for grabs. Look for confirmation on that one possibly coming quite soon as The Dark Knight Rises production ramps into high gear.
For more on this story read 5 Reasons Bane And Catwoman Are The Perfect Dark Knight Rises Villains.
Your Daily Blend of Entertainment News
Staff Writer at CinemaBlend