Another Dwayne Johnson Sci-Fi Action Comedy Is Happening, Get The Details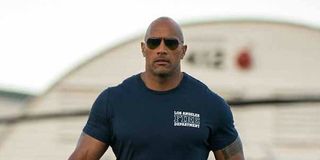 Dwayne Johnson isn't slowing down anytime soon. The action star just nabbed another starring role in an upcoming film acquired by DreamWorks. And it sounds pretty darn epic.
According to The Hollywood Reporter, action star Dwayne "The Rock" Johnson is now attached to a new sci-fi action comedy acquired by DreamWorks called Alpha Squad Seven. Both DreamWorks and Paramount were in the bidding war for the film before DreamWorks edged out the competition for win. Johnson will also serve as co-producer with his 7 Bucks Productions company along with Beau Flynn's FlynnPictureCo., whom he collaborated with for Journey 2: The Mysterious Island, Hercules and San Andreas.
Alpha Squad Seven is a four-quadrant action comedy adventure set in space, similar to Guardians of the Galaxy. Seasoned comedy writers Jeremiah Friedman and Nick Palmer wrote the pitch for the film, which was just fast-tracked for development. No word yet on who else will star in Alpha Squad Seven, but one thing for sure, with Johnson attached it is likely to be a top-notch action film. As we all know, this won't be Dwayne Johnson's first jaunt into the sci-fi action genre, however, it will his second sci-fi action comedy movie.
Over the course of 10 years, Dwayne Johnson has starred in three sci-fi action films, and none of them were comedic roles. Doom, his first notable sci-fi action film, centered on a group of Marines on a research facility on Mars who end up battling genetically engineered monsters attack the facility. Doom was loosely based on a video game series of the same name. Race to Witch Mountain, his second sci-fi action film, was also a thriller. Race to Witch Mountain, which was based on the 1968 novel Escape to Witch Mountain by Alexander Key, centered on a Los Vegas taxi driver who meets to extraterrestrial youths whom he must help reach their spaceship, which is buried in Witch Mountain. Not quite a comedy, but undoubtedly possessing some comedic moments.
Johnson's most recent sci-fi action movie, Journey 2: The Mysterious Island was technically his first sci-fi action comedy film. Journey 2: The Mysterious Island, which was his first collaboration with producer Beau Flynn, followed a teenager and his stepfather as they set out on a quest to the South Pacific to an island where they rescue its sole human inhabitant. Like the first Journey film, Journey 2: The Mysterious Island was also based on a Jules Verne novel, The Mysterious Island.
Johnson fans can expect big things from the action star and his upcoming film Alpha Squad Seven as it is meant to be a two-hander in addition to launching a franchise.
Your Daily Blend of Entertainment News